Daphne & Celeste - Save The World (Ben Jacobs, 2018)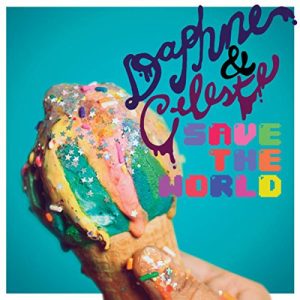 Seeing this helium-vocalled duo Daphne & Celeste re-emerge in 2018 may make you think that nostalgia has reached a nadir, but guess again. If 2015's single, 'You & I Alone' (included belatedly here) hadn't made it clear that D&C v2.0 are for real, then '…Saves The World' certainly does. It's a fun, funny, defiantly eccentric record that's as brainy as it is barking mad.
Much of the buzz around the album has surrounded Max Tundra's involvement. The producer has also been on an extended hiatus since 2008's ace Parallax Error Beheads You. And there's no doubt that his fingerprints are all over the songs here, be it through his love of BIG synth chords or nerdy lyrical obsessions (modular gear, Twin Peaks, science all get shout outs). Lysine, from 2002's Mastered By Guy At The Exchange, is a good reference point, feeling like a dry run for Saves The World. Don't think teen cheese, think the sort of cooly synthetic soul that PC Music make – with the caveat that Tundra was doing this stuff well over a decade ago.
But here's the thing, as integral as Tundra's contributions are, this is a Daphne and Celeste record first and foremost and it's their older, wiser, //weirder// personas that make the album so charming. There's a palpable sense of the duo's mutual affection across the songs, in Sunny Day's joyful, "I miss you, I need you, I want you, I'll see you again" (which feels like it's about the pair's lasting friendship, much more than anything as prosaic as guys) or the call and response structure or 'Whatever Happened To Yazz?'. Oh, and if you were wondering on the basis of that first record whether they can actually sing – yes, they can, very nicely too.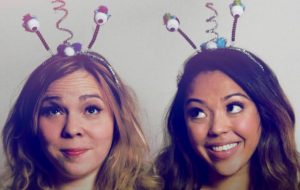 With a Beefheart cover ('Kandy Korn' – surprisingly faithful to the good Captain's original), 'BB' (a playful riposte to the "sub-Dylan balladry" and "passive conformity" of Ed Sheeran and his ilk) and the aforementioned, squelchy, actually-a-bit-unsettling 'Whatever Happened To Yazz?', '…Saves The World' is undoubtedly a strange album. But it also delivers a brace of straight-down-the-line killer tunes. Alarms is lush electro that you can imagine coming from artists as diverse as St. Vincent and Kylie.
'16 Stars' mixes a properly lovely melody and anthemic chorus with a dash of Tundra's proggy synth-wizardry. 'And You & I Alone' remains a highlight – not just the best song here, but one of the most quietly innovative pop songs of the last five years. There's even a sweet ballad about a cactus that suggests an affinity with Super Furry Animals' sincere approach to silliness.
That the new Daphne & Celeste album is not just good, but great may seem absurd, but that's the only way to describe it. It's full of moments of sublime pop genius, thrilling electronica, unexpected warmth, DGAF attitude and good humour. It might not save the world, but it will make your life considerably brighter and better.
Will Salmon + NMR