RED BARAAT – SOUND THE PEOPLE (RHYME & REASON RECORDS 2018)
From the moment Sound The People kicks off with "Next Level" – a wild and exuberant confluence of Bhangra music with anthemic, psyched-out twists – it's clear that Red Baraat are very much taking their sonic signature to a new astral realm. On their fifth offering, the Brooklyn-based band continues their exploration of South Asian culture, while firmly placing it within the context of a globalized generation as demonstrated by the diverse backgrounds of its members.
"With the migration that's happened, there is all this varied and expressive music that has erupted from the South Asian diaspora," explains founder and bandleader Sunny Jain, who was born to Punjabi parents in Rochester, NY. "Sound The People is a shout out to, and celebration of, this community around the world."
With these nine songs, Red Baraat turns this celebration into a full-blown infiltration. While the band – completed by Chris Eddleton (drumset), Jonathan Goldberger (guitar), Jonathon Haffner (soprano sax), Sonny Singh (trumpet) and John Altieri (sousaphone) – has streamlined from an eight-piece to a six-piece in the last year, the ever-experimental group, formed in 2008, has once again proven their ability to push musical boundaries and transcend dimensions. Sound the Peopledraws from a vast expanse of influences, from bhangra music to jazz, hip-hop to psych and everything in between, utilizing the musicians' virtuosity to redefine and reimagine the capabilities of their instruments.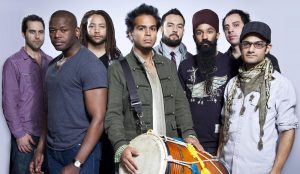 An array of special guests and carefully curated covers help to round out the album. "Kala Mukhra" features Pakistani singer and writer Ali Sethi on a version of the traditional "Gora Mukra," subverted from the original meaning of "fair-skinned face" to "dark-skinned face" all with a feverish and enthusiastic pace. Elsewhere, the rambunctious and playful "Moray Gari Suno" is their take on one of the first known songs of Chutney music, a mixture of Indian and Caribbean music that gained traction in Trinidad in the 1960s. "Vibrations" is a minimalistic and acoustic improvisation overlaid with a passage by American poet and activist Suheir Hammad about human connection written by Sufi intellect Hazrat Inayat Khan. A similar ideology reappears on the boisterous closer "Punjaub March", read by American humorist John Hodgman, a song that marks the historical reality of colonialism's impact on South Asian marching bands, with Red Baraat reinterpreting and recontextualizing it.
The title track is the central force of the record. A stunning collision of traditional Indian music and insurrectionary hip-hop, "Sound the People" is centered around a politically-charged rap by Heems of Brooklyn hip-hop group Das Racist. Constructed from disparate ideas about the South Asian diaspora, migration and the current political climate, it is a powerful and incisive response to the way the United States has changed since the November 2016 election.
"It's hard to escape saying something about the time we're living in," says Jain, who began writing the album just weeks after Trump's victory. "So in a sense, the record is a call to action against the various inequalities and injustices that we're seeing. We desperately need citizen engagement in response to those injustices."
Sound the People coalesces to create an album that is simultaneously rebellious, important and fun; an inspiring cacophony of instruments, cultures, and ideas that pay tribute to the way diversity makes, and has always made, America great. It is a defiant battle cry and a confident statement that establishes Red Baraat as one of America's most vital bands who remain dedicated to the spirit of community and joy, along with a wonderful reminder that we are truly all in this together.
NMR + RED BARAAT