Shantel & Cümbüş Cemaat's - Istanbul (Essay Recordings, 2020)
This production is a utopia in dystopian times. Shantel & Cümbüş Cemaat's album "Istanbul" open up a utopian space between Frankfurt-on the-sea and Istanbul on the Bosphorus. Here a new attempt is being made to create – with respect and devotion – a new dialogue between pop cultures.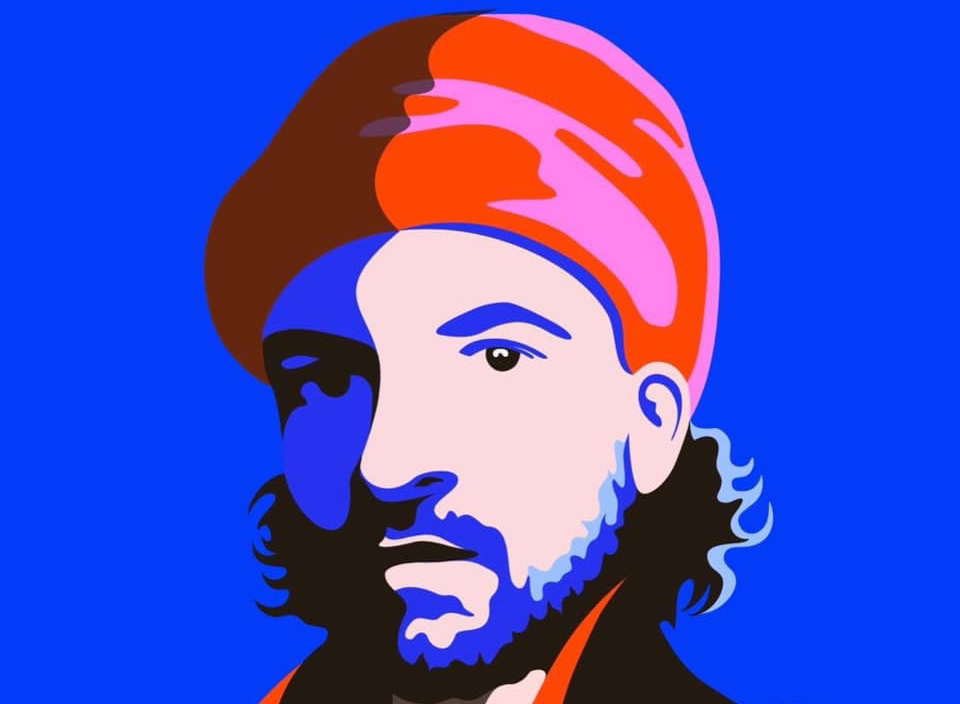 "Dialogue of cultures", that sounds a bit trite, doesn't it? But let's not make too hasty a judgment. Rather, let us travel back in time with Shantel — to the beginning of the 2000s, when Shantel broke with his past as a leading European electronica, trip-hop and downbeat producer — and reinvented himself.

A journey to the home of his ancestors, coupled with his old love for Greek & Arabesk music, encouraged him to explore new sound-scapes. The Bucovina Club, with its euphoric mood was born. The production "Bucovina Club", a wild mix of various Southeast European sounds & beats, brought home the feeling of ecstatic club nights into one's private home stereo set-up.
"Bucovina Club 2" made manifest the musician's logical next step: he went into the studio with artists to record original material, remixed and conceived new songs for some of the most popular bands. At some point between the two phases, a good friend of his wrote to his buddy Ahmet Ulug, the impresario of the legendary club, Babylon in Istanbul, and asked him if he didn't want to invite this guy, Shantel, who seemed to have an interesting approach, and was the only conceivable German musical export which could appeal to Istanbul.
And then the magic happened: While he was still having a hard time of it getting European audiences to let their hair down and shake their hips, Shantel found in cosmopolitan Babylon a concentration of creative potential: a jubilant crowd of underground musicians, avant-garde artists, fashion designers, intellectuals, party kids and bohemians, eager to celebrate.
The nights were long, and after dancing, one moved on to the Meyhanes of Galata or Kadiköy to continue the revel, drinking, discussing, eating – enjoying the first rays of sunshine over the Bosphorus in the early morning with coffee or çay. It was in this atmosphere that the first ideas for the legendary "Disko Partizani" video, the title song of Shantel's 2006 chart hit album, were born. Istanbul had adopted and naturalized Shantel, the album was released on Double Moon, the label of the Babylon club. It went double platinum as the best-selling work by a foreign artist. Disko Partizani was selected as a jingle for the broadcast of football games on the country's biggest TV station and was played for years before all games in
the first as well and second leagues.
It was as if the city had been waiting for a new soundtrack, the driving force of which was fueled by electronica, traditional music and Shantel's own Bucovina-style sound hybridization. Fatih Akin, a regular guest at Babylon, became aware of Shantel and invited him to write music for his films. After Paris, Tel Aviv and Athens, Shantel took up his second home in the Istanbul district of Kadiköy. Istanbul always gave Shantel more love than his hometown Frankfurt.
For Shantel, Istanbul has always been more than just a sure bet for a good show; he liked to immerse himself in the local culture, and actually he had been thinking already for some time about how he could do homage to local music scene.
In the heart of the infamous TomTom quarter was to be found the club Anahit Sahne, then the most important underground club in Istanbul and right next to it the Ziba Bar, the hang-out of Cümbüş Cemaat. The band has been active for thirteen years, has played at legendary parties and weddings, rocked the clubs in Beyoğlu (when Beyoğlu was still the hottest party spot in town).
Cümbüş Cemaat – a typical Taksim band – has five hundred songs in their repertoire but never recorded a single one, apart from their contribution to the film "Djam" by Tony Gatlif. In the Ziba Bar you indulged in rakı with mezze while having your eardrums washed by the electrifying sound of Anatolian psychedelic scales meeting disco beats; modal ornamentations, Arabesk melodies and Rembetiko merging into one.
Holding all clichés in abeyance with regard to the alleged mutual hostility of the ethnic groups, Greek music and bouzouki sounds are very popular in Istanbul. Rembetiko, which was born in Smyrna and went into exile in Piraeus, has always been played here in Istanbul with more soul – according to the well-known Irish-Greek sound magician Ross Daly. Shantel started his musical career in one of the first Neo-Rembetiko bands in Germany. And so again one comes full circle and hooks up with the right people again.
One began working together to merge Cümbüş Cemaat's creative anarchy and Shantel's ideas and skills as a producer. Shantel invited the band to Frankfurt to record an album. The most important tasks were to find a common language, to distill the essence of each song and to create an image for each piece. In production, Shantel chose an approach that focused on having the acoustic entering into rapport the analogelectrical.

The structure remained traditionally modal with a drone (basic tone) in D or E major. It was about taking the hypnotic aspect of Anatolian Neo-Folk to a new level. One had to imagine a serious blues element nestled in one's inner ear, which then becomes blended with 70s disco with an electro beat.
Ultimately, it was the sound of electric saz music or Anadolu rock (Barış Manço, Erkin Koray and Selda Bağcan). The focus of the production was an analog Fender guitar amplifier (Princeton Reverb Silverface from 1966) and Ribbon microphones with matching tube amplifiers. The album was mixed on an old analog mixing console, the sound of which is world famous, because Snap made use of it in their chart hit "I've Got the Power", and so on.
We are holding in our hands a kind of rootsy musical hybrid that could only develop in the diaspora, because there is currently an aesthetic standstill in Turkey, an identity crisis of the young generation that no longer sees any real perspective. The brain drain has further weakened the local scene, as many artists have no other prospect but presenting themselves outside the country.
Perhaps this album can work in both directions: our direction – saying: "Look, there are fascinating sounds to discover, here a sound is still living, a utopia gives hope". And in the other direction: "Keep on going, surprise us, and thank you for what you have done."
It must be love!
NMR (photo: press Shantel)