Billy Barman - Dýchajúce obrazy (Slnko records, 2016)
Milly and Vanilly, two libertines, old friends and adolescent troublemakers returned to Bratislava after years of travelling throughout Europe to start a band. They recorded first three songs in spring 2008 and two of them, Introvert and Stano, were played regularly by alternative radio station Radio FM. After that in autumn 2008, Milly and Vanilly completed the band finding bassist and drummer to start playing live gigs.
After few exchanges, the final band members are Milly (vocal, guitar), Vanilly (vocal, guitar), Master of shisha (bass), Teo the Boxer (drums) and Kubo ZipZip (keyboards).
In 2009 band started to cooperate with Bulgarian Bogdan Mlčkov Orchestra and recorded three new songs: Ahmed, Podskalický Ján and Cigánska. Band and orchestra had few concerts together, performed at Pohoda festival, the biggest festival in Slovakia and even played live show broadcasted by Slovak national radio station.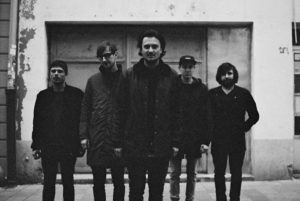 In 2010 Billy Barman won the Radio_Head Awards (voted by listeners of Radio FM) for Best Live Act and Best Breakthrough Artist. The band subsequently toured with popular Slovak band Para and played at most of important festivals in Slovakia.
On December 1st Billy Barman released their debut album Noční jazdci, followed by successful Slovak tour with famous band PPE.
At the 2011 Radio_Head Awards the band was nominated in three categories: Album of the Year, Best Live Act and Single of the Year. Noční jazdci won the award for Album of the Year.
Billy Barman has made three music videos (for Introvert, Cigánska and Orbit), frequently broadcasted by Musiq1 TV channel.
Nowadays, the band prepares for spring tour, summer festivals and works on new songs.
Róbert Gregor (foto: LousyAuber)