SUSHEELA RAMAN – GHOST GAMELAN (NAIVE RECORDS 2018)
Born in London to South Indian parents, singer Susheela Raman, alongside producer/guitarist Sam Mills, has released a chain of adventurous albums and is known as an intense, captivating live performer. Spirited encounters with musicians from a wide range of backgrounds has been a hallmark of her work.
Now a new ambitious collaboration with Indonesian musicians is bearing fruit. Raman has delivered an extraordinary album 'Ghost Gamelan', the body of which was which was recorded in Solo, Indonesia in 2016. The album is a collaboration with Javanese contemporary gamelan composer Gondrong Guanarto and his team of virtuoso gamelan players. Gamelan, for non-initiates, is the music of Bali and Java, played mostly on tuned gongs, which has long inspired smart western music makers from Debussy, Messaien, Philip Glass and Steve Reich to Sonic Youth.Traces of its shimmering, loopy DNA are over everything from modal jazz to electronic dance music.
Susheela, Sam and Gunarto first met in Solo 2015 and recorded a one-off highly original Gamelan based version of the epochal Beatles track 'Tomorrow Never Knows', timed for the 50th anniversary of the 'Revolver' album. The Beatles' sonic experimentation and sense of mischief, anchored by melody and song, was a clear reference point for Raman and Mills on this adventure. Completely hooked by the beguiling sonic mirage of the gamelan, whose hovering sweet dissonances always promise something to musical dreamers, they returned to record an album of their own original songs.
And the songs: This is Raman and Mills' most evolved songwriting work to date. To mention three: 'Going Down' and 'Beautiful Moon' are enigmatic but seductive songs while 'Rose' with words by William Blake really pushes the boundaries harmonically and sonically. All tracks are sung in English and were composed before the collaboration with the gamelan even began. They took the risk, not knowing if the musical bridge would hold, and spent a month with Gunarto in Java building gamelan housings for their songs. Whilst being experts in traditional music (Gunarto is the son of a master shadow puppet storyteller) these Javanese multi-instrumentalists also follow their own avantgarde 'kontomperer' adventures. Their music is a multiplicity and their references are global. What we call 'Western' music has had a presence in Java going back four centuries, carried by homesick Portugese sailors. These days omninational pop, rock, hiphop and electronica pump from every gridlocked car stereo, so these Javanese virtuosos have grown up with all that. Then again the South Indian connection with Javanese culture run deep. The Chola Empire, from its temples in Raman's ancestral home of Thanjavur, sent its ships all through the South East Asian Archipelago. A thousand years later, Raman and Mills could link movements in the Gamelan to certain Indian scales and rhythms which they channel in their songwriting, and which help them find their own unique way into that music.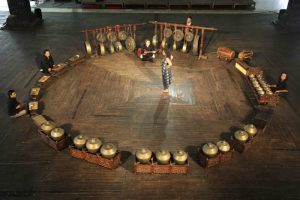 Why 'Ghost Gamelan?' The music is haunted. Javanese music evokes the invisible; ancestral presences, old religions, volcanic rumblings, and court intrigues. A sensuality of appearances, decorum, ritual and procession runs to trance and possession. Meanwhile, Raman's songs here are meditations on change, transformation and mortality. Lyrics reflect on uncertainties cast by memory, desire and the ephemeral. In this album, tonality and rhythm are questioned and de-centred, just as much as they are asserted. Some records achieve a fixed quality but this record is very 'alive', or volatile, both in the performances but also in the way it shifts as you hear it. The vitality of the interactions, of the musical cultures misbehaving with each other, result in a sound more 'unearthly' than 'world'.
Back in London, Raman and Mills took recordings from Java and layered vocals, guitars, bass and drums including by one of their musical heroes, Charles Hayward. Hayward was in one of the most inspired and unique British bands 'This Heat' (1976-82) who, like Can, played unclassifiable music going beyond 'rock'. Also on the album; Malcolm Catto of the Heliocentrics, Bass player Dudley Phillips (who has accompanied Robert Wyatt, Bill Withers amongst others) and upcoming French percussion virtuoso Lucie Antunes (Aquaserge and Moodoid). Young engineer James Mottershead shaped the sound of the album, and has really made powerful mark here.
Susheela's voice, whether solo or in unearthly harmonies, performs its unique magic drawing musical world together. With its bold meddling with tune and tempo, this fresh set of songs threatens not to work but achieves a compelling integrity. Susheela Raman's 'Ghost Gamelan' is a rich new landscape unlike any of her previous work and quite unlike anything else.
NMR (photo: www.susheelaraman.com)