Inna De Yard - Inna De Yard (Wagram, 2019)
"The Inna De Yard project is really capturing the music in its virgin state, like in that original state of creation when we were just jamming in the backyard." (Winston McAnuff)
Stripped down to the roots, these 13 contemporary new versions of classic Jamaican recordings, originally from the likes of the Trojan and Studio One studios, are triumphantly fresh and channel Jamaica's rebel music history. With Rastafari sewn into its sonic seams, Inna De Yard remind us of Jamaica's vast contribution to popular music around the globe with a cast of golden-generation roots artists whilst introducing a new class of roots-enthused artists from the island.
Following the release of the album is a feature-length Inna De Yard documentary-film directed by Peter Webber (3 Oscar nominations for Girl with a Pearl Earring), set for its UK and international cinema release alongside European tour and summer festival dates including a special beach performance at the music industry Midem Festival in Cannes.
After a sell-out debut tour in France in 2017, the trailblazing quartet of Ken Boothe, Cedric "The Congos" Myton, Kiddus I and Winston McAnuff join forces to front a cross-generational super-group of roots-reggae visionaries, featuring Jamaican vocal trio The Viceroys and Bob Marley backing vocalist and artist Judy Mowatt, as well as Jah9, Var and Derajah, three of Jamaica's most stirring and spiritually-connected artists on the scene today.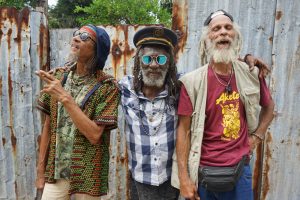 Overlooking the landscape and gripping heights of Kingston's Blue Mountains, stands a house lined brightly with vinyl LPs & 45s, books and Jamaican art, with a terrace view that very few others can rival. It's here, just outside Kingston in Stony Hill and surrounded by grounds of trees, wildlife and ancestral spirits that the 'Inna De Yard: The Soul of Jamaica' flame was first lit. Returning to Stony Hill the Inna De Yard crew call in an imposing ensemble of singing greats and renowned musicians to craft an absorbing collection of traditional, percussion-heavy reggae-soul.
As spiritual leader of the Inna De Yard troupe, Kiddus I opens proceedings with his roots-meets-chanson re-work of Edith Piaf's 'If You Love Me'. The Electric Dread AKA Winston McAnuff follows with 'Malcolm X', his rousing acoustic tribute to the influential leader and activist, before radiant three-part vocal harmonies and Cedric Myton's effervescent falsetto surf across nyabinghi drumming on a glossy version of the spectacular 'Row Fisherman', simply, a classic of 20th century reggae music. If one man knew anything about classic records, it's Mr. Rocksteady, Ken Boothe. His international 1974 Trojan super-hit 'Everything I Own' is given the Inna De Yard treatment here, perfectly capturing the vibrant energy and soul of a man, now in his 70s, with no intention of slowing down.
From Jamaican vocal trio The Viceroys' exceptional Studio One production 'Ya-Ho' to Horace Andy's vibesing cover of Bill Withers' 'Ain't No Sunshine', Inna De Yard's vivid, rhythm-focused arrangements breathe new life into timeless yet timeworn compositions. One-third of Bob Marley and The Wailers 'I-Threes' backing vocal group, Judy Mowatt's demonstrates this on 'Black Woman', featuring Rasta rebel newcomer, Jah9, epitomising the cross-generational and revolutionary attitude of roots music. Future elder figures, Derajah and Var take centre stage on the album's final tracks, with two incredibly poignant and powerful affirmations of life, 'Tribute To My Sister' and 'Live Good', that lament the sad realities and troubles of Kingston streets, yet through Rastafari find salvation in their struggle and survival.
So much more than a reggae album, Inna De Yard reminds us of the incredible contribution Jamaica had on pop and black music going back decades when Bob Marley was a household name. Clearly the Rastafarian spirit that aligned with the Jamaican artists in the '60s and '70s reverberates through the Jamaican musical ancestry of 2019. Jah!
Duncan Ballantyne + NMR (photo: Baghir)