Al-Qasar's "Who Are We?" topped the October Transglobal World Music Chart. Middle Eastern psych-rock collective debut album is an explosive mix of heavy Arabian grooves, global psychedelia and North African trance music. Guests include Lee Ranaldo (Sonic Youth) & Jello Biafra (Dead Kennedys). The band calls it "Arabian fuzz."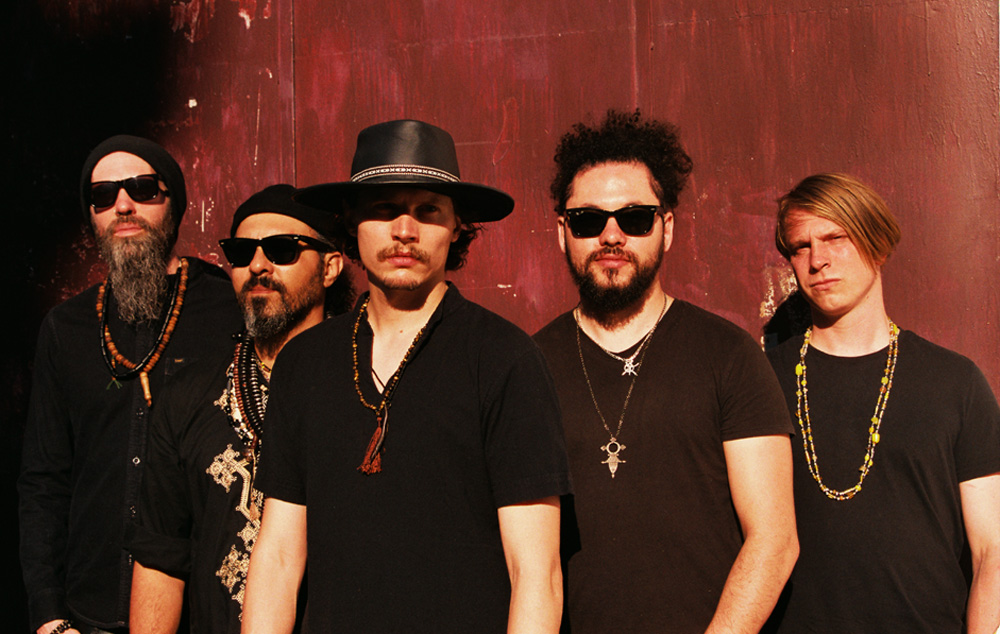 "Al-Qasar was born in the Barbès neighbourhood of Paris," explains band leader Thomas Attar Bellier. "I'velived in Los Angeles, Paris, New York, Lisbon… I wantedto start a project that was in tune with the daily life of people living in these international cities, something diverse,radically colourful, with a fresh, contemporary outlook on what societies really look like today". The musicians came together, from France, Morocco, Algeria, Egypt, and theUnited States.
Shows followed, first in France, then in Europe and the Middle East. They put out an EP, the widely-lauded Miraj, recorded in Cairo.In the same time frame, Attar Bellier collaborated with the likes of Emel Mathlouthi and DinaEl Wedidi, two of the most exciting names in contemporary Arab music.
Work on Who Are We? began in December 2020,with Attar Belliercomposing eight tracks that writhe and roar in skilfully controlled chaos.
Bass, drums and traditional percussion create a deep, irresistible groove for the foundation, while electric saz and guitars build a wailing wall above, withMoroccan vocalist Jaouad El Garouge's ecstatic voice, steeped in his Gnawa upbringing, pulling inspiration from history as it strides into the future.Drawing on years o fexperience working in Los Angeles studios, Attar Bellier produced the album. Who Are We? translates the sound that inhabited his head into something physical that stirs spirit, heart and feet.
It is relentless and insistent, like a psychedelic celebration on the dancefloor, ristling with the kind of deep energy that makes Al-Qasar sound like the world's most dangerous wedding band. During those years spent behind the control board, Attar Bellier made some good friends in the US, and they've been eager to help out on the project. Alain Johannes (Queens of the Stone Age, PJ Harvey) mixed the record, and Grammy-winner Dave Collins mastered it.
The Dead Kennedys' Jello Biafra was a natural addition to "Ya Malak," his inimitable voice reciting a translation of Egyptianrevolutionary poet Ahmed Fouad Negm, elevating the record's social critique while showcasing the first-ever English recording of Negm's work. Jello Biafra is not the only punk hero to appear on Who Are We?
Lee Ranaldo of Sonic Youth layers textured, brooding guitar over the first two cuts, "Awtar Al Sharq" and "Awal." The sweeping drones embrace the Moroccan bendir groove to magical results. "Lee sent me upwards teen guitar tracks," says Attar Bellier in amazement. "It wa senough for an entire EP, and all so good. The hard part was deciding what not to use. Lee'svibe just fit perfectly with what I was trying to do with the track."Al-Qasar's magnetic pull drew big names from other continents, too. Hend Elrawy, the acclaimed Egyptian singer whom the band met in Cairo, brings her powerful voice to "MalWa Jamal", whose Arabic lyrics promote a female-centric and humbling outlook on prostitution and its consequences.
Like the other songs on the album, its social consciousness is carefully veiled in images. "Hobek Tawrat," for instance, can be taken as a love song, with its seductive, ringing opening on the electric saz that leads up to the aching voice of New York-based Sudanese innovator Alsarah(Alsarah & The Nubatones).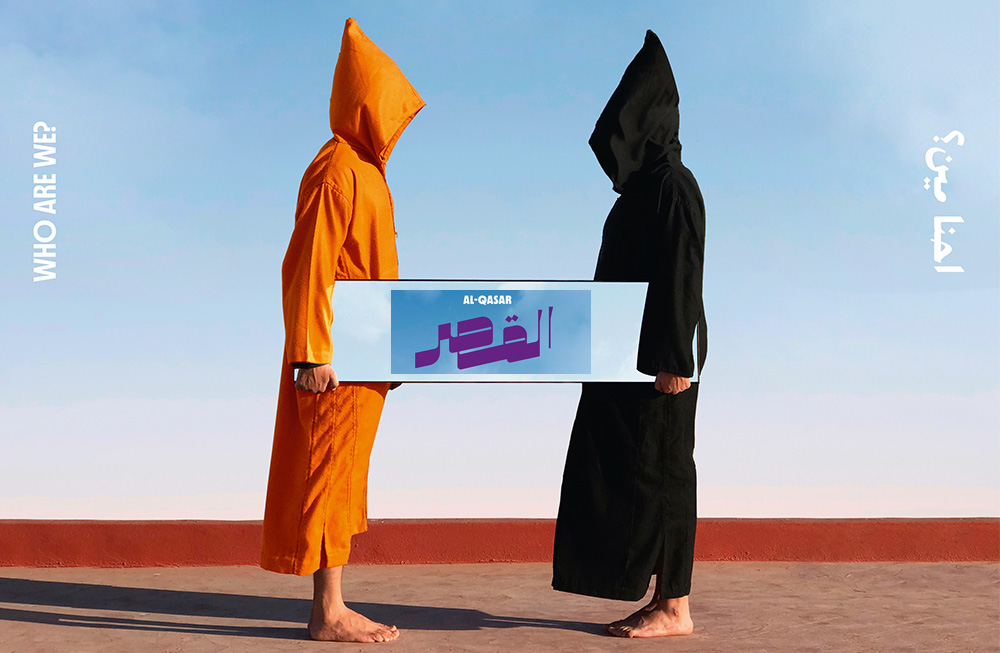 Top albums October 2022:
Al-Qasar · Who Are We? · Glitterbeat [-]
Maya Youssef · Finding Home · Seven Gates [1]
Antonis Antoniou · Throisma · Ajabu! [-]
Angélique Kidjo & Ibrahim Maalouf · Queen of Sheba · Mister Ibé [29]
Oumou Sangaré · Timbuktu · World Circuit / BMG [4]
Solju · Uvjamuohta / Powder Snow · Bafe's Factory [-]
Lass · Bumayé · Chapter Two / Wagram Music [7]
Cimarrón · La Recia · Cimarrón Music [3]
BKO · Djine Bora · Les Disques Bongo Joe [5]
Minyeshu · Netsa · ARC Music [9]
Vieux Farka Touré · Les Racines · World Circuit / BMG [-]
Wesli · Tradisyon · Cumbancha [-]
Adédèjì · Yoruba Odyssey · One World [-]
Yanna Momina · Afar Ways · Glitterbeat [25]
Ali Doğan Gönültaş · Kiğı / Gexî / Kegui · Ali Doğan Gönültaş [11]
Madalitso Band · Musakayike · Les Disques Bongo Joe [8]
Purbayan Chatterjee & Rakesh Chaurasia · Saath saath · Purbayan Chatterjee / Believe [-]
Leyla McCalla · Breaking the Thermometer · Anti- [6]
Fanfara Station · Boussadia · Garrincha Gogo [14]
Catrin Finch & Seckou Keita · Echo · Bendigedig [18]
Päivi Hirvonen · Kallio · Nordic Notes [-]
Arifa · Danubian Voyage · O-Tone Music [-]
VRï · Islais a Genir · Bendigedig [-]
Master Musicians of Jajouka, Led by Bachir Attar · Dancing Under the Moon · Glitterbeat [17]
Radicanto · Alle Radici del Canto · Visage Music [-]
Oriental Brothers International Band · Oku Ngwo Di Ochi · Palenque [10]
Cardo-Roxo · Bravio · Projecto Cardo [30]
Justyna Jablonska & Jyotsna Srikanth · Songs for Cello & Carnatic Violin · Stitch [26]
Ernesto Djédjé · Roi Du Ziglibithy · Analog Africa [-]
Itzhak Ventura · Aligned · Riverboat / World Music Network [20]
Simon Shaheen · The Music Of Mohamed Abdel Wahab · Zehra [-]
Lamia Yared & Ensemble Oraciones · Ottoman Splendours / Lumières Ottomanes · Analekta [12]
Iyana · Iyana · Delicious Tunes [-]
Nasim Khushnawaz · Songs From the Pearl of Khorasan · Worlds Within Worlds [21]
Noori & His Dorpa Band · Beja Power!: Electric Soul & Brass from Sudan's Red Sea Coast · Ostinato [27]
V.A. · Wantok Musik Vol. 3 · Wantok Musik [13]
Shiran · Fadaytak · Batov [35]
Elif Sanchez · Mi Voz · Pasion Turca [22]
Denez · Ur Mor a Zaeloù · Arsenal Productions [-]
Bonga · Kintal da Banda · Lusafrica [36]
NMR (Photo: press Al-Qasar)
Founder members and administrators: Juan Antonio Vázquez (ES), Ángel Romero (US), Araceli Tzigane (ES) 
Current active members: Roger Short (UK), Ankur Malhotra (IN), Alexis Herrería (MX), Rosângela Britto (BR), Ula Nowak (PL), Liana Cisneros (PE), Seth Jordan (AU), Tony Hillier (AU), Charlie Crooijmans (NL), Nigel Wood (IE), Dore Stein (US), Roger Holdsworth (AU), Madan Rao (IN), Gil Medovoy (US), Chris Heim (US), Ciro De Rosa (IT), Scott Stevens (US), Hendrick T S Foh (MY), Cliff Furnald (US), Rob Weisberg (US), Toni Polo (FR/ES), Nicolás Falcoff (AR), Masakazu Kitanaka (JP), Jordi Demésenllà (ES), Rafael Mieses (DO/US), Luís Rei (PT), Jean Trouillet (DE), Evangeline Kim (US), Willi Klopottek (LU/DE), Betto Arcos (MX/US), Alejandro López (ES), Jon Kertzer (US), Ken Stowar (CA), Jiří Moravčík (CZ), Mu Qian (CN), Carlos Ferreira (PT), Gil Rouvio (IL), Bouna Ndiaye (SN/US), Kutay Derin Kuğay (TR), Robert Gregor (SK), Yatrika Shah-Rais (IR/US), Armen Manukyan (AM), Rolf Beydemüller (DE), François Bensignor (FR), Eleni Ziliaskopoulou (GR), Marija Vitas (RS), Jaïr Tchong (BE), Enrique Blanc (MX), Tiago Lucas Garcia (BR), Zekeriya S. Şen (TR), Benjamín Muñiz (PR), Daryana Antipova (RU), Mika Kauhanen (FI), Luisa Piñeros (CO), Toni Pennacchia (US), Chen Hanzi (CN), Takuya "Salam" Unagami (JP), Janaína Ávila (BR)