Tribalistas - Tribalistas (Phonomotor Records, 2017)
Fifteen years after the spectacular success, both in Brazil and abroad (France, Italy, Portugal, Spain, Argentina) of the first album by the Tribalistas, Marisa Monte, Arnaldo Antunes and Carlinhos Brown are getting together again for a new musical adventure. Just as with the first album, nothing was planned ahead or scheduled. The method was the same: a home-made record by three composer friends from very different origins and musical backgrounds, recording one song per day with a small group of musicians – all associates and friends – and the same technical team as before. A new edition of the same project. The album was recorded in Rio de Janeiro, between March 20th and April 2nd this year.
As partners, the trio has compiled numerous songs and sustains itself on the diversity of styles and the harmony between the contrasts that both separate and unite them. One of the biggest success stories of the start of the millennium, Tribalistas (2002) had no launch, promotional interviews, shows or presentations on TV. There was merely a half-hour showcaseof the three, presented in Paris in 2003, and the power of the music communicating with people. Asin the old days, all this spectacular and unexpected success came through radio and word-of-mouth. The world has changed a lot in the last 15 years, but Marisa, Carlinhos and Arnaldo are still the same, only more mature, more popular, more admired and composing better.
Nelson–One thing that stands out in this new work is the musical personality that you have created. You've developed a "Tribalistas sound", almost a brand, an acoustic instrumental that's recognizable in the first chords, even before you start to sing. It's a sound that even the workman that was in my house commented on, happily, when he heard me playing this new album: "Is it really the Tribalistas?" It's all so simple and yet, at the same time, very well thought out.
Marisa: It's DNA.
Nelson: How did the album come about?
Marisa: We all live in different cities, but every once in a while we manage to meet up; sometimes two of us, sometimes all three. And when we meet, everyone takes the stuff they're working on and the music and lyrics just start emerging. But we weren't really thinking of making an album. We were taking a creative vacation, which for us is always reinvigorating, refreshing and fun. Aside from enjoying the beach and being with friends, we write songs. And last year all three of us managed to meet up twice. There were two escapes to Bahia, for four or five days, and the songs just came easily: two or three every day.
Brown: It's the air in Bahia and whatever our creative leisure time suggests. In a way we're migrants, aren't we? And our migrant instinct makes us expand our themes in a way that is not thought out, it just happens. The way we compose is very intuitive, but that happens because we are Tribalistas. It's the best of our talents that we can offer to other human beings.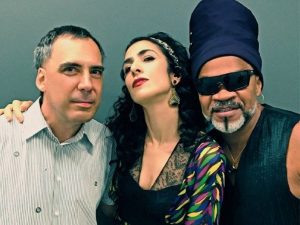 Nelson: This Tribalista sound, this human and musical, ethnic and cultural combo, has a very strongsense of Brazil, doesn't it?
Marisa: Yes, the guitars, the percussion, the voices…
Nelson: An intuitive "Bahian", an intellectual from São Paulo and the brunette from Rio born into samba. You're almost caricatures, a marketing dream. I was just joking about you being a cliché (laughs), because it couldn't be more perfect! This is the Brazilian sound that is in the Northeast; it's in São Paulo, in Rio… It's about thoughtfulness and intuition, that roguish "carioca" thing, all the samba tradition…It's a special encounter but without having the burden of being a permanent group. With the Tribalistas you only experience the good side of being in a group.
Marisa: It's a vacation!
Nelson: There are days when you justcan't stand yourself, right? Imagine a group! (Laughs.)
Arnaldo: It's a vacation. There is none of the obligation and it's all very spontaneous. It's sort of magic… When we see each other, everything happens so naturallyand fits so well together. The three Brazilian states, Bahia, São Paulo, Rio de Janeiro… At the same time, such different personalities…This time we managed to get together the same crew that recorded the first Tribalistas. Not just us three, but also Dadi, Cézar Mendes, Alê Siqueira, Dora Jobim, who's here filming this meeting and who had documented everything about the first Tribalistas. Marisa as producer again; and me, Brown, Alê Siqueira and Daniel Carvalho, Dadi's son, as co-producers…
Nelson: There is male, female, black and white, different origins and upbringing, there's everything… it's a composite of all those things.
Arnaldo: It's like, we get together and something could come out of it, or not, but it always does, in an unexpected way. We've written a song about refugees (Diáspora), about work (Trabalivre), another about the occupation of the schools (Lutar e Vencer), but we never sat down and said: let's talk about this. They're all subjects that came up when we sat down together to compose. So it's very spontaneous, very natural, there's nothing planned…
Brown: I see it very much as a meeting of percussionists, and you don't think when you play percussion. Although this occupation that comes to mind is also responsible, even though we're on vacation. We get pleasure as a group, which transcends any situation. And all we want is for people to find this same pleasure, to feel this familial affection. We always have our kids around, our friends, people whom we like, so there is a feeling of family that surrounds us and which, within that spontaneity, ends up bringing with it responsibilities – quite tough ones – for the themes that spontaneously emerge.
Nelson: I also see Tribalistas as music that brings people together; it'svery gregarious. You hear that sound, those guitars, you could be at home, in the jungle, on the beach… (laughs). It's a sound that you think, "ah, anyone can do that, right?" You feel that there's nothing painful about it, it's just pleasure, it's campfire music. There's a lightness…
Marisa: I think our process is light. We try and maintain that pleasure andthat joy. I think that it ends up coming through because it's such a joy for us all to be together! For example, each of us has our career, everyone's working hard, traveling around, doing their shows, so this is when we can get together and unload that weight off our backs and share it (laughs). "Is Arnaldo here, is Brown? Ah, perfect!" Being able to count on the whole team and share things rather than being alone is a relief and a privilege.
Arnaldo: And it's funny how the Tribalistas music has its own personality, which I wouldn't use in my solo work, nor would Marisa, or Carlinhos. There's a face to it, a language, which even surprises us when we listen to what we've recorded. We say: "Wow, the magic's there!"
Nelson – Diáspora is one of the songs that most caught my attention when I heard it, because 15 years ago, at the time of the first Tribalistas, some topics didn't even exist. Urban occupations, refugees, occupation of schools… We used to talk about African or Jewish diasporas, the ones already written in History, but it's a subject that now has it's own urgency and inevitability.
Brown –The diaspora theme is not a momentary one, it's cyclical – it seems to persist. For us, all of us, even Brazilians, there are a lot of people who came escaping war. I'm from Bahia and I'm very familiar with the culture of the Galicians who ran away from the Spanish Civil War, from Galicia… But my other grandparents also escaped – from the drought. All this has brought about a sense of connectionwithin the cities, but also one of estrangement. But Tribalistas means all of that; we're an alliance made through music.
Nelson: There are some songs on this album with themes that weren't – couldn't be – on Tribalistas 1, which was on the whole a lighter thing. But at the same time there are also some very light songs, evenmore so than the first Tribalistas had. Songs like Os Peixinhos (together with Carminho), which is so delicate, and which, in contrast, end up enhancing the "fighting songs", like Diáspora and Lutar e Vencer.
Marisa: We've identified three thematic poles. So it's a tripolar album! (Laughs)
Nelson: Tripolar! That's excellent! You're a tripolar group!
Marisa: One is this focus on common subjects, the things we're living through now that are part of daily lifeand that are reflected naturally in the songs. They're the songs that talk about these more political issues, more day-to-day, in the moment, stories about our contemporary world. Then there's another side that is really more existential, like Ânima, more profound, more individual and reflective, like Fora da Memória. The third is the loving side, which comes through in Aliança and Feliz e Saudável. It's something that's an issue in everyone's life, which isalso collective but lands in the middle, between the collective and the individual. I think it's got a little of all three poles.
Arnaldo: One thing is the counterpoint of the other. It's got balance.
Nelson: You hear a tough song like Diáspora and then something so light and romantic like Aliança, which is a song about marriage, in the real sense of bonding. And people think you're talking about a ring, don't they? (Laughs)
Marisa: It's about having an ally…
Nelson: Two people who bond for a reason. That's what I always saw as the sense of an alliance and very few songs have expressed it so well; how light it is, how beautiful and natural… It's totally idealized. That also makes people feel good.
Brown: Fifteen years ago Tribalistas was a baby and now it's an adolescent! (Laughs) We've been through wars, we've seen unrest; we've seen loads of things that have ended up being absorbed intuitively into the themes. But I think we're still impartial, and we're collaborators in this pleasurable service. It's all a beautiful emotional passion that we keep trying to explain, but there's no explanation for art. I think that this whole chain of desire, of involvement, will come through each person's feelings: who's going to get married first, me or the guy listening to the album? We're going to marry each other through the music! (Laughs)
Nelson: One thing that music listeners are curious to know is how do you write a song with five people? What are the mechanics of that?
Arnaldo: There are lots of ways;sometimes it starts with a harmony, sometimes with a melody, a few lyrics…
Brown–So for example Marisa, who plays the guitar well, starts to play, and you have the beginnings of a construction process.
Arnaldo: There's a really good example of that on a DVD by Marisa (Barulhinho Bom), when by chance we were together, in a pre-Tribalistas encounter. We start to compose there and then and it's a really interesting moment because it shows how the whole thing actually begins, sort of out of nothing!
Marisa: It's like playing cards. It's a game, a bit of fun…
Nelson: Go back two places!
Marisa: Go back two places, give up, game over, start again… You need intimacy for that, and admiration… It can come up from anywhere. We might be talking about a person, a character, something funny that someone said… Anything can be the spark that sets off a story. Sometimes people bring us something. Pedro Baby brought us some music and we wrote the lyrics with him. Sometimes I'll have some lyrics, sometimes Arnaldo has a melody, even though everyone thinks, "ah, Arnaldo is a poet!"… But he writes music too, just as I also write lyrics. The roles alternate… It's like a board game where the aim is to finish and write a song by the end. For that you need closeness, respect …admiration. Because you're never going to write a song with someone you don't like.
Arnaldo: We inspire each other! Sometimes someone will throw in an idea that ends up not working, but because of it, someone else creates another idea that goes into the song. So it's a very dynamic process…
Marisa: And I think all three of us are generous in the creative process. We open up, we share; we like that.
Arnaldo: Because when you're composing in a group you have to know how to contribute, but you also have to know when to step back. Sometimes you insist, defend; sometimes you let go of something that you like… And just let the music go where it needs to go. That's group effort.
Marisa: The other day someone said something that I thought was really interesting: you have to be generous not only in giving, but also in receiving. If you're not generous, you're not able to receive. When we finished composing we had this mountain of songs and we realized that this wasn't an album that could wait around to be recorded; and that it would be more powerful with the three of us recording together. If I sang Diáspora on my album, it wouldn't have the force of having them with me. We wrote 20 songs, so there are 10 that we didn't use that I will record, or Arnaldo will, or Carlinhos, someone will record, just because they didn't have that quality of seeming stronger with the three of us together.
Arnaldo: Since on the first one there was that song Tribalistas, with the words "the tribalistas don't need to be right", on this album there's also one that's our collective voice: "we're everyone from riffraff to royalty, we are one/ we are one, just one / 123, we are many, when we're together / we are one, just one".
Brown: I think is all about the pleasure of the encounter, the collective pleasure! About the respect, which is mutual, about listening, the necessary silence, because expressing my thoughts, my structure, depends a lot on what one of the others says. Because that person has been through it, or because he's seeing it from a place that is much more broad, and has more substance. The thing about sadness or a yearning for the future becomes more workable, softer, because you've stopped to understand how the other person feels.
Nelson: You've added some other elements to this combo and to its sound. Like Pretinho da Serrinha, who's from a different musical school, someone so gifted in creativity, in language… how did Pretinho end up in the Tribalistas?
Marisa – Pretinho is just part of the gang! He appeared on some verandah with his cavaquinho and joined in! He and Pedro Baby came by to visit us during one of those meet-ups in Bahia; they spent two days with usand ended up with two songs on the album. The people who are on the album, both those two and Carminho, are included as authors because above all this album is an authorial record.
Nelson: And Carminho, how did she get involved?
Marisa: We had already recorded a song together that Arnaldo and I wrote for her, Chuva no Mar. I had started a few things with Carminho and then we wrote Trabalivre, a song about the relationship with work, which involves self-knowledge and personal improvement, with at the same time the need to survive, to support yourself. Work is not just about the job; work is about building your life. But at the same time what we try and do is "free work", which is the work that you do voluntarily, with love, willingly, for the privilege of doing what you like, with whom you like. That's the ideal, isn't it? Carminhosaid to me: "Portugal has so many work songs". And I replied: "so does Brazil". So then we wrote this song together about it; first the melody and then the lyrics, just by chance, by coincidence… Arnaldo and Brown didn't even know that Carminho and I were talking about this…
Arnaldo: Yes, it really was a coincidence… We had also started writing some lyrics about work when Marisa came along with the news: "our song is about work songs"!
Marisa: Carminho also brought the beginnings of another song, an idea, Os Peixinhos, a song that we began here in Rio, and which I took along half-finished and we wrote the words together in Bahia.We had the first verse, which I think is actually by Carminho (sings): "the fish are…" We kept going and then Arnaldo and Brown finished it. And they didn't even know Carminho personally.
Arnaldo: Then she took part in the DVD thatI recorded live in Lisbon.
Marisa: That's how she came into the group; she just joined right in. She came here to record and visited us in the studio and I think it's also been a unique experience for her. In Portugal, which is a very small country with very typical music (the fado), Carminho is big. She gets on well with people, travels the world and I think she would like to break out a bit. It was clear that it felt easy to meet with us here; and the way she communicates and expresses herself shows that she's a woman of the world.
Nelson: In Portugal they only want her to sing fado, in the family tradition, and she's so much more than that!
Brown: Some countries, or even cities, become too traditional and end up expecting their artists to uphold the established aesthetic traits. At least when the artist is young, which she still is. It's like Pretinho da Serrinha. He's not alone in his music; his family comes from the jongo tradition. As you can see in Diáspora, we start with a jongo verse, played with an instrument called a karkabou, from Morocco. In a way that's what the traditions are demanding of us; that they be maintained within a framework that finds partnership and the necessary renewal for them to evolve.
Arnaldo: At the same time, we bring in the Castro Alves poem and the excerpt from O Guesa, by Sousândrade, which opens the song; it adds other information that makes the mixture more powerful.
Nelson: Sousândrade's poetry is still incredibly modern, even though it was written in 1850. Another song that has the same more contemporary spirit, of social chronicle, is the one about the occupation of the schools. How did that come about?
Marisa: Both Arnaldo and I were part of that moment. When the occupations started I went to see them in Rio and Arnaldo in SP. We realized that this younger generation is much better than ours, because we grew up during the dictatorship when there were no associations at all, of any kind; not of students, not of neighborhoods, nothing! So you begin to see how they are already able to organize themselves, they have more political awareness and that they were there fighting for a very noble cause. There were kids of 15, 16 years old, sleeping in the schools, fighting for their rights, for education,in this very polarized moment in which you either are, or are not; like in a binary system where there's only zero or one: if you're not one thing, then you're something radically opposed to it. At the same time, we're in a moment of political upheaval, of checkmating the entire system and there's a desire to create new horizons…
Nelson: New forms of expression, of exercising power.
Marisa: We don't want the old leaders or the old symbols.We want leaders, but not the old leaders; we want the symbols, but not the old symbols. There's this search for new ground rules for all of this. "Outdoing other people is not the answer. What matters is consistently outdoing oneself". Each one of us has to excel in oneself and not keep fighting against one another. These changes start with the individual!
Arnaldo: We're living in a moment of antagonism. We see intolerance on all sides; the Internet is the kingdom of that, and the social networks, with the "haters"… I think there are several songs on the album that speak to people's malleability. You can change your opinion, like in Feliz e saudável…
Nelson: That's a very provocative song. How does anyone dare to say that they're happy and healthy in the war zone that we live in? They can't, it's not possible! It makes me so angry (laughs)…
Marisa: Actually, it's happy and healthy because the personal is able to reassess their positions. I can have regrets exactly because I'm happy and healthy.
Brown: This happy and healthy link with the occupation is beautiful. In my generation it was called invasion. We used to take over some place, a house maybe, and create what they call new slums, but with the idea that there would be schools there, health clinics, and social action… Not as in dirigisme, but rather that the people could occupy it. That is definitely happy and healthy because we can't keep hoping that education will be formatted only by political design. The new generations are more prepared because "Look, I'm occupying my thoughts with the possibility that the world will get better."
Marisa: And the idea of embracing a common cause, something that's public, which instead of not belonging to anyone, belongs to us all.
Arnaldo: We grew up in the dictatorship; we were children during the time of the counter-culture in the 60s. Then in the 70s, we were already sort of teenagers and we lived through a series of victories that came out of that time and that stayed; they remained as values from which there is no return: the ecological concerns, the behavioral victories, sexual liberty, basically, the rights of the minorities. We saw all that happen…And then, suddenly, we're living in a period of retrogression. Things that we thought no longer existed started to come back, so it's all kind of frightening. So then you have young people defending education, which is perhaps the most important, most fundamental value in terms of thinking of a better future… We loved that. I think it's an inspirational motive.
Nelson: And your kids, in what way does living with them and experiencing them and what they bring to the home, contribute to this outlook you have?
Arnaldo: They were always there in Bahia. My son Brás helped with one of the songs, made some suggestions for lyrics, ended up being a partner. But the whole time there was always Tomé (my other son); Brown's sons Miguel and Chiquinho; Mano and Helena, Marisa's kids. Basically, our children are always around…
Marisa:This is just part of their lives. I was saying that the other day at home, there was me, Adriana Calcanhotto and Teresa Cristina when Helena came in and said: "Are you all singers or is anyone here normal?" (Laughs)
Nelson: Do you have any plans for live shows?
Marisa: No, not really any plans… We have a lot of dreams. Lots of dreams, few deadlines and few plans! Let's wait and see… We met up last year on stage – I was doing a show in Salvador and these guys turned up and joined in; it was beautiful! It was really powerful… When it happened it was a complete surprise, nobody knew! So they show up and it was like a Brazil goal in a World Cup final, by penalty. But that question is already 15 years old: "Will there be more? Will there be more? Will there be more?"
Nelson: And then there was Tribalistas 2…
Brown: It really wasn't something in the group's plan, but it's so enjoyable and it came up with such energy and such spontaneity…
Marisa: In fact, creating has a life of its own. It's not something we control, it just happens. We can make time, be willing, provide guitars, lyrics and melodies, paper, pens… but this thing has a life of its own, it's the boss, right?
Arnaldo: We've also never stopped composing. If it so happened that we did another recording together, a more concrete plan, it's because it's the right moment and we couldn't force that or bring it forward just because of other people's expectations. We just felt the time was right. And actually, the amount of songs we had helped…
Nelson: Tell me about the song Baião do Mundo
Arnaldo: It's about drawing attention to an issue that became essential because of scarcity, about when the Cantareirareservoir was empty… It's an issue that's been around for years, it's worldwide. But in the song we explore it from the standpoint of celebrating water and the power of nature.
Brown: Celebrate water. We want to see things getting better and I believe strongly in the planet. I'm speaking as an individual, but it's no different in the group. We keep on believing, not giving up on this planet we call Earth, where we need water, where we need social cohesion,where we need to regard the human being as bird, you know what I mean? A bird crosses all frontiers. He's not there, like: hey, where's your passport? (Laughs…) I'm here my friend and I'm flying! He drops his "load" from way up there and it's a seed,it's already a new flower that blooms, it's a new tree.
Arnaldo: We're optimists! Where we have that refrain,"Where are you?Where are you?"it's the character who's lost his relation and is looking for him, but it's also us saying to anyone who's listening, "Where are you?"
Brown: Let's go! Let's do it!
Arnaldo: A question that's on everyone's mind:what's your role on the planet, in society?
Brown: So what are you doing about it? Just complaining?
Marisa: I hope this new work will make a lot of people happy.
Brown: A lot of people!
Nelson Motta