Trio Da Kali & Kronos Quartet – Ladilikan (World Circuit 2017)
You take a trio of the finest traditional griot musicians from Mali and put them in the studio with a renowned and revolutionary Western string quartet – and the resulting album is one of the most richly rewarding musical collaborations you are likely to encounter.
Ladilikan, the new album by Trio Da Kali and Kronos Quartet, represents a landmark in cultural cross-fertilisation that both parties rank among the most satisfying musical experiences of their careers. David Harrington, Kronos' artistic director and founder, enthuses that the album is "one of the most beautiful Kronos has ever done." On first hearing their griot grooves being played by violins, viola and cello, Trio da Kali's musical director Fodé Lassana Diabaté said, "This is going to be the best collaboration of my life."
Da Kali means 'to give a pledge' – in this case to a musical heritage that dates back to the time of Sunjata Keita, founder of the great Mali empire in the early 13th century. The line-up of balafon (xylophone) bass ngoni (lute) and female singer is also based on ancient tradition, although the trio format and its repertoire is now an endangered species in contemporary Malian music.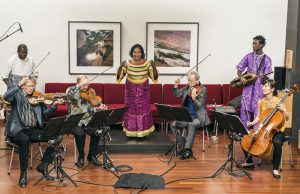 All three Da Kali members come from celebrated hereditary musical families, and were brought together as a griot 'super-group' by Dr Lucy Duran on behalf of the Aga Khan Music Initiative (AKMI), which has an admirable track-record of commissioning and producing a variety of projects involving traditional musicians. Balafon player Diabaté was a long-time member of Toumani Diabate's Symmetric Orchestra and has recorded with Salif Keita, Taj Mahal and many others. A musician of great subtlety and invention he has honed a virtuosic two-balafon technique to perfection. Bass ngoni player Mamadou Kouyaté is the eldest son of the instrument's greatest exponent Bassekou Kouyaté, and he holds down the groove in his father's band Ngoni ba. He is also involved in the thriving Bamako hip-hop scene. Singer Hawa 'Kassé Mady' Diabate is the daughter of Mali's greatest traditional singer, Kassé Mady Diabate, and the power, range and phrasing of her voice led Harrington to compare her to the late queen of American gospel Mahalia Jackson.
The Kronos Quartet – violinists Harrington and John Sherba, violist Hank Dutt and cellist Sunny Yang – have built an enviable reputation as the world's most adventurous string quartet. Known for their commitment to continually re-imagining the string quartet experience Kronos has released over 60 albums of extraordinary breadth and creativity, and they are no strangers to collaborations with some of the world's foremost composers and artists. For this project, Kronos turned to the American composer and their frequent collaborator Jacob Garchik to arrange Trio da Kali's repertoire. Combining the spirit of fearless exploration with expert craftsmanship and skill, Trio Da Kali's original repertoire has been taken on a fascinating journey, giving a new voice to timeless sounds.
AKMI commissioned the project as part of a long-term collaboration with Kronos that brings them together with leading artists from AKMI's roster to compose, arrange and perform new music rooted in but not constrained by tradition.
The stately yet irresistibly funky 'Tita' is one of a series of songs that emerged around the time of independence in Mali encouraging the youth to follow their hearts rather than their elders' wishes in marriage. Mamadou's funky baseline, Lassana's melodic and inventive playing, Kronos's touching interlude and Hawa's heartfelt vocals retain a delicate balance until all are swept up in celebratory dance.
'Eh Ya Ye' like much of Trio Da Kali's repertoire is a song of advice. It concerns a marabout (a West African term for a Muslim cleric, diviner and healer) who falsely claims the power to conjur up jinns (spirits). Ultimately it is a parable about the importance of being honest and recognising one's own limitations. It is a fast, driving piece where Kronos conjure up the jinns underpinned by Mamadou's Cuban tumbao styled bass.
'Ladilikan' is based on a gospel song entitled 'I'm Going To Live The Life I Sing About in My Song' first recorded by the great America singer Mahalia Jackson in the 1950s. The original lyrics are about the hypocrisy of those who preach one thing and do another – those who 'go to church on a Sunday and then misbehave on a Monday'. Hawa praises two Malian singers who behaved in life as they advocated in their songs before going on to address the situation in the north of Mali where jihadists had banned music and imposed strict sharia law. A mighty performance from the combined ensembles frames a soaring gospel styled vocal from Hawa and stand out balafon solo from Lassana.
Poto: Jay Blakesberg