Waldeck - Gran Paradiso (Dopenoir Records , 2016)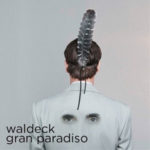 The Viennese electronic musician WALDECK is finally back! On the 24th of June 2016 he published the album Gran Paradiso on Dope Noir Records.
Gran Paradiso is the first published CD since the release of Ballroom Stories in 2007. His brilliant down-tempo beats together with the talents of the Viennese singer Heidi Moussa-Benammar (La Heidi) are a combination that should be able to get everyone out on the dance-floor.
Klaus Waldeck is one of the most famous electronic producers in that Austrian Scene. Since 1990 he has producing alone – under the names Waldeck or Dr. Waldeck – and together with other musicians under the band name Saint Privat. His last published album "Ballroom Stories" dealt with jazz music from the 20's and 30's.
Now, with his most recent release he has dedicated his talent to Italian dance music. Together with the vocalist Heidi Moussa-Benammar (La Heidi) he has created a swinging Italian spaghetti-western sound that should get even the most jaded club-goer dancing.
First a word of praise fro the wonderfully erotic voice of La Heidi. Her velvety smooth vocals brush past your ears like soft whispers in the night, leaving behind just the slightest shudder and sigh.
The melodies and beats from Waldeck come together with her voice into a rounded and swinging whole that will leave a lasting impression on the listener. The radio ready songs (none longer than 3:30) have everything needed for potential ear-worms and the perfect summer sound. The first song "serenata part I" already transports the listener to an Italian village, melding seamlessly into the second song "Chico" which gives way to the somewhat slower but no less swinging third song. It is the perfect song for a summer evening in which the mosquitos buzz around the lanterns as friends and family gather on the terrace for a glass of wine.
This vacation feeling continues throughout the entire album – Waldeck has managed to capture this atmosphere and translate it into music. The most danceable track is the 6th: "Rio Grande". Funky, with a continuously jazzy bass-line, the song creates a soundscape that leaves one wanting more. The song "bella ciao" is a similarly jazzy tune that includes the seductive voice of La Heidi again. The spaghetti-western feeling comes to fore on the 11th track of the album "Western Saloon – Cartoon". A song that sounds like an old cowboy on his horse in front of a western saloon. The album closes with the song "Get On Uppa", in which Klaus Waldeck and Heidi Moussa-Benammar once again show just how well their talents complement each other.
Musicexport and NMR (photo: press Waldeck)