BLACK REBEL MOTORCYCLE CLUB – WRONG CREATURES (VAGRANT RECORDS 2018)
Despite the travails of pushing themselves to evolve, this time they found that they could lean on all the different iterations of Black Rebel Motorcycle Club (BRMC) over the years. As a band that's refused to be locked into one genre, they found a sense of freedom in their abilities to float from bluesy rock'n'roll, to psychedelia and back to a more rootsy Americana sound.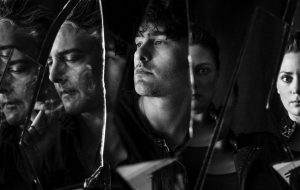 Wrong Creatures takes a journey throughout rock's history, taking unlikely twists and turns, both peppered with historic influences but also having one foot firmly in the present. Their biggest focus remains in developing their own musicianship, never resting on their laurels, preparing to enhance the live experience they can offer fans.
Wrong Creatures is an exercise in getting back to the core of BRMC's alchemy. From the Cave-esque murder balladry of Haunt to the garage punk of Little Thing Gone Wild, it runs the gamut of classic rock, allowing BRMC to flex every muscle in their armour. They remain opaque about the songs' greater meanings, fearful of past misunderstandings.
Photo: archive