Martin comes from Lehotka pod Brehmi. He studied electro-technic at a school in Zvolen and in the 1990's he was a well-known frontman of the band called Jesus Underground Band.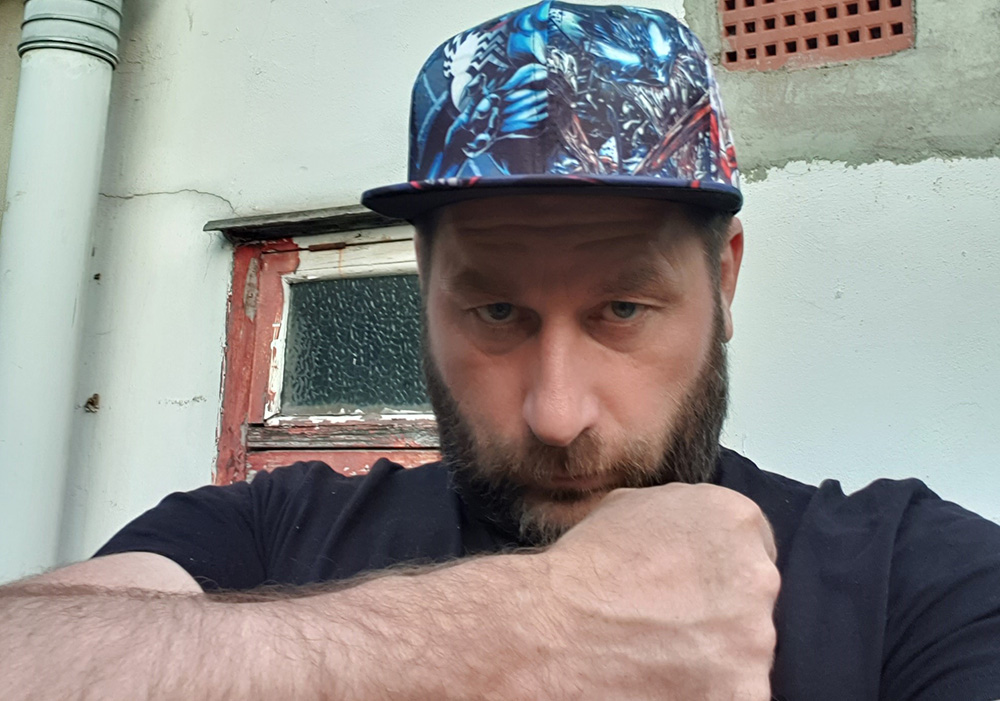 From his early childhood he was surrounded by music, inspired by his mother who was also a musician. In 1988 he started a band called Jesus Underground Band, they played together for 12 years. Their only album with no name was published by Czech label 'Black Point' and the same album was also legitimately released in Sweden.
In 1993 he established a festival 'Slovenske Alternativne Leto'.
The very first year was organized in the house of culture in Ziar nad Hronom. Later, this festival was sustained and organized by co-founder Maros Pavuk from the club Bombura. Maros then successfully continued in organizing the festival in Brezno and its surroundings and the last time this festival took place was in 2020.
In 1996 Martin, with the band moved to London, where he currently resides.
Jesus Underground Band prolifically gigged around the U.K. Despite the bands success the group unfortunately split up. Martin has been working in various jobs, currently he is working as an electrician and in IT his free time is dedicated to composing music.
In 2004 Martin organised the festival 'Resistance' in Bratislava's cultural house Za zrkadlom, that was attended by thousands, including many international attendees. A year later in 2006 he organised the same festival in London. He tried to organise it again in Bratislava but because of administration complications this was unsuccessful.
However, Martin did not end his musical career in this millennium and in 2012 he recorded EP Missa Watanabe vs Space Traveler and collaborated with use to be music London promoter Mike Codling, who is known to have collaborated with bands such as Muse and Ash.
Martin is not defined just by one style of music; he avoids hip-hop but even in this style of music he can find artists he enjoys.
Among Martins hobbies is reading, he reads many books, especially non-fiction.
He will be featured in the programme "New Model Radio", where Martin will choose songs from different genres, the dominating genre will be harder rock and dance music. This playlist is showing the musical mindset that he finds himself at the moment. At the same time, avoiding the mainstream he will be focusing on known songs from his favourite performers.
Nice listening!
Robert Gregor (photo: archive Martin Homola)
Program playlist:
Dirtyphonics & Sullivan King – Hammer
Elijah Eilish ft Billie Nelson – Bad Guy
Brian Eno – Lizard Point
Gancher & Ruin – Arsenal
Laurie Anderson – In Our Sleep
Beck – Morning
Camel Phat & Jem Cooke – Rabbit Hole
Can – Father Cannot Yell (Pete Shelley/Black Radio Mix)
Biopsyhoz – System
Sleaford Mods – Kebab Spide
Tommy Cash – Pussy Money Weed
Morgan Rose – Exhale
Trevor Morris – Hvitserk's Choice
Make Them Suffer – Drown With Me
Bulp – Left Behind
Camo & Krooked, Nihils – Broken Pieces (feat. Nihils) (Culture Shock Remix)
Skynd – Elisa Lam
Two Fingers vs. Only Child Tyrant – Slip One
Erykah Badu – Other Side Of The Game
Santana – When I Look Into Your Eyes
The Prodigy – Spitfire
Calvin Harris + Disciples – How Deep Is Your Love
Mick Gordon – Flesh & Meta
Skrillex – Ease My Mind
DJ Blyatman & Russian Village Boys – Cyka Blyat
Ministry – N.W.O.
Knife Party – Boss Mode
Medial Banana – Vazim si
Dubioza Kolektiv – U.S.A.
Horskh – Engaged And Confused
Igorrr – Ieud
Lana Del Rey – Summertime Sadness
Circle Of Dust – Drum Machines of Our Disgrace
DJ Mad Dog – Where The Sun Never Shines
Listen to the program here: