Brazilian Girls - Let's Make Love (Six Degrees Records, 2018)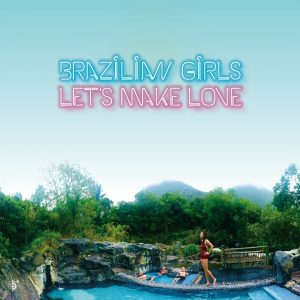 Brazilian Girls return in 2018 with Let's Make Love, their first album since the 2008 Grammy-nominated New York City. Formed in 2003, the group—Sabina Sciubba (lead vocals, electronics), Jesse Murphy (bass, vocals), Didi Gutman (keyboards, vocals), Aaron Johnston (drums, percussion, vocals)—was born after the four members crossed paths at East Village club Nublu. "Somehow we all ended up at Nublu on a Sunday and it all came together," says Johnston. The band began playing Nublu weekly, embracing a free-form ethos that helped shape their kaleidoscopic sound. "A lot of the spirit of the band comes from being so open to improvise like that," says Murphy. Fast earning attention for their euphoric live show—and winning fans like Zach Galifianakis, who later cast Sciubba as a regular on Baskets—Brazilian Girls released their self-titled debut in 2005 and sophomore album Talk to La Bomb in 2006.
Produced by longtime Brazilian Girls collaborator Frederik Rubens, Let's Make Love came to life over the course of several years. Since they're now scattered throughout the U.S. and Europe, the four band members assembled when possible to write and record, piggybacking those sessions onto gigs in Istanbul and Madrid and Paris and New York. Despite the distance, Brazilian Girls consistently found their chemistry as kinetic as when they first started out. "It's a little astounding to us because we'll go so long without playing, and then we get together and things just happen in this very harmonious way," says Sciubba.
Brazilian Girls bring a woozy romanticism to many tracks on Let's Make Love. Opening the album with lead single "Pirates," Sciubba notes of the modern-age new wave love song, "It's a song about how we should all sleep more and sleep more together. It would change everything. Actually that's what the whole record is about. It may even be the true meaning of life." The album gets its title from a glorious anthem at the heart of the album. Like much of their latest record, the frenetic yet ethereal "Let's Make Love" takes a more classically arranged form than the band's earlier work. At the same time, both album and title track embody the quintessential spirit of Brazilian Girls: their strange balance of wildness and elegance, cheeky humor and fractured poetry, soulful mystique and libertine wisdom. "Right now 'Let's Make Love' seems like a very good message to put into the world," says Sciubba of the song's inspiration. "It's not even 'Make love, not war'—it's just 'Make love,' and nothing else."
On "Karaköy"—named for an Istanbul neighborhood that Gutman describes as magical—sleepy melodies and languid storytelling underlie the song's heavy-hearted longing. And with the sweetly breezy, Spanish-sung "Salve," Sciubba and Gutman share one of the first pieces they ever wrote together, back before Brazilian Girls even existed. "We were jamming and the melody just came back to me," says Sciubba. "It felt like this record was finally the right time for the karmic rebirth of that one."
But on songs like "Wild Wild Web"—a feel-good dance number about social decay—and "Impromptu"—a gang-vocal-driven, exquisitely scornful track that Sciubba calls "an anti-conformist anthem"—Let's Make Love slips into a defiant mood suited to the album's punk-inspired sensibilities. "The electronic stuff we were creating before has become very popular, so maybe we should be doing that again," says Gutman of Brazilian Girls' shift in aesthetic. "But 'we should' isn't an idea that exists with us. We do whatever we feel in the moment."
As Gutman points out, Let's Make Love was also closely informed by the more commanding vocal delivery that Sciubba brought to the album. "Sabina kind of reinvented herself in the way that she sings on this record—she sounds a little bit like Elvis Presley," says Gutman. "Singing is just an extension of your way of communicating," Sciubba adds, "and as a young girl you feel this need to be nice and polite, even in the form of creating. And then as you get older you just want to get straight to the point—you don't want any bullshit. There's a need to be more authentic."
In reflecting on Let's Make Love, Brazilian Girls attribute their sustained momentum to an egalitarian mentality. "I think the fact that we've been able to last so long and keep moving forward has to do with this all starting in a very collaborative way," says Murphy. "It's always been a very shared space, with nobody telling anybody what to do." And thanks to that sense of openness, the band's stayed true to an instinct-led process that makes their music all the more exhilarating for both artist and audience. "There's usually no vision or premeditated idea of what we're going to do," says Gutman. "It's more like trying to seize the moment and be completely spontaneous, the same way we do with the live show. We try to get into a trance of some sort and let ourselves be transported by the music and create something transcendent. That's the place we always want to get to as artists."
Six Degrees Records