DANIEL HAAKSMAN – WITH LOVE, FROM BERLIN (MAN RECORDINGS 2019)
Daniel Haaksman has been touring the world for over twenty years as a DJ and music producer, digging exciting, new, local music styles and making them accessible to a wider audience. In 2004, the Berlin based tropical bass pioneer released the compilation "Rio Baile Funk Favela Booty Beats" (Essay Recordings) and thus presented the formerly locally known sound from Rio to an international audience. En passant he created with his compilations and the following releases on his own label Man Recordings the genre term "baile funk" (in Brazil the music is called "funk carioca"). This was followed by travels to the northeast of Brazil (the first, international tecno brega compilation), as well as to southern Africa (which resulted in his last 2016 album "African Fabrics", which featured collaborations with artists such as Spoek Mathambo, Kuduro inventor Tony Amado and Dama Do Bling amongst others).
On his newest effort, "With Love, From Berlin", Daniel Haaksman focuses on the city in which he has lived for over twenty years: Berlin. Since the late nineties, the German capital has changed radically. The regional metropolis has become an international boomtown, growing by 50,000 new arrivals annually. Berlin today has become a global magnet for tourists and, in a crisis-ridden political world, incidentally turned into Noah's Ark for refugees from Syria or Afghanistan, but also intellectuals from Hungary, Poland, Turkey, even from Great Britain or the USA – those with the new nationalism of their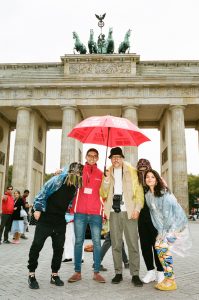 countries can not do anything or have lost their job opportunities for political reasons. And of course there are the many international artists and musicians who have long since turned Berlin into a global center for contemporary art and music. Noteworthy is that unlike other major European cities such as London, Paris or Zurich, Berlin has not been internationalized by global corporations or a financial industry, but by tourism and an increasing influx of foreigners. If one walks today through the inner-city districts of Berlin, one hears all languages ​​of the world. It´s an increasingly cosmopolitan city.
"With Love, From Berlin" is Daniel Haaksman's third studio album ́s after "Rambazamba" (2010) and "African Fabrics" (2016). On his new album, the Berlin DJ and music producer addresses the growing globalization of Berlin. Haaksman cooperated with numerous international artists living in Berlin. Many of these artists had previously met Haaksman on his DJ journeys, performed together at festivals or in clubs or worked together on projects. At some point many of his international friends suddenly moved to Berlin, including Cibelle (Brazil), Robert Owens (USA), Dengue Dengue Dengue (Peru), Paul St.Hilaire (Dominica), Kalaf Angelo (Angola, the former frontman of Buraka Som Sistema), She ́s Drunk (France), Coco Maria (Mexico), Ori Kaplan (Israel), Lavoisier (Portugal) or Kzia (Belgium), and so Haaksman decided to record "With Love, From Berlin" with all his international friends. On the one hand because they share a similar, globally oriented musical taste, on the other hand because they all have a similar migration history: Move to Berlin because it's an inspiring city where you can live and work well as an artist. And to make music and art in this city out of love for the cause, and not primarily earn money with it, a luxury that only Berlin can offer. Made for the sake of art, "With Love".
In the nine album tracks Haaksman and his artistic partners reflect musically and lyrically the place of longing Berlin and its change. As an El Dorado for sexual self-determination ("Corpo Sujeito" ft. Cibelle), finding identity ("Occupy Berlin "ft. Kalaf Angelo), as a city that stands for freedom and fun ("24-7" ft. Robert Owens + Kzia), as a place of transition for artistic self-realization ("Como Sera" ft. Lavoisier) and personal maturation ("La Añoranza" ft. Coco Maria, Dengue Dengue Dengue + Ori Kaplan), or simply as an exciting city ("City Life" ft. Paul St.Hilaire). The nine tracks of "With Love, From Berlin" are musical postcards from today's Berlin. As international as the city is, so diverse is the music of the album, for which Daniel Haaksman picks up current, globally circulating musical genres such as kizomba, baile funk, afrobeats, grime, reggaeton or dub and subjects them to his typical music hybridization. Each track embodies a different perspective on the city, which is as heterogeneous and diverse as a few major German cities, and which will retain its role as a dream destination in 2019.
NMR (photo: press)