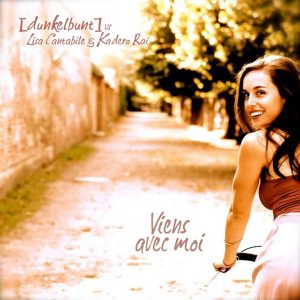 "Viens Avec Moi" is [dunkelbunt]'s first collaboration with singer Lisa Cantabile and will excite us with a catchy summer tune and the right amount of "laissez-faire". Begun on a few hot summer nights in Italy and Croatia, [dunkelbunt] and Lisa Cantabile finished the song in Vienna, joining up with the Moroccan raї singer Kadero Rai to ooze even more mediterranean vibes.
Lisa Cantabile was born in Vienna, but grew up in Rwanda and Mozambique. She is a jazz singer and yoga instructor. Kadero Rai (who has also lived in Vienna for some years) is known for his collaboration on [dunkelbunt]'s latest single "L'amour fidéle".
Ulf Lindemann aka [dunkelbunt] established himself as a musician after leaving his hometown of Hamburg. His international breakthrough was his 2006 album "Morgenlandfahrt", a mixture of Balkan, Gypsy Swing and electronic music. Not long after, on tour in Australia, he wrote his biggest hit to date "Cinnamon Girl" together with his wife Barbara Tavernier and the Boban Markovic Orkestar.
Today [dunkelbunt] is one of the most important Global Beat Troubadours of the new millenium. He has played gigs in the townships of Johannesburg to the high society clubs of Hollywood whilst being the resident DJ in the legendary Viennese club "Ost-Klub" and the equivalent New York club "Mehanata" in Downtown Manhatten. He has toured the world playing the major cities around the globe all the while constantly expanding his sound.
Intermittently he lives in Hawaii, Andalusia and Istanbul, has built up a worldwide network of like-minded musicians and DJ's and in 2010 founded his own record label. He can be credited with being one of the pioneers of Electro Swing, Balkan Beat and Global Bass.
His band is a constellation made up of fifteen different languages, every musician a universe of their own.
NMR