Although El Búho hails from England, he has tropical vibes and rhythms coursing through his veins. His passion for the diversity of Latin American culture prompted him to study Hispanic Studies at university and later become a musician. His musical outlook is reflected in the album "Strata", which we will present to you in more detail.
---
Robin Perkins, a.k.a. El Búho, listened to REM, Crowded House, Buena Vista Social Club, Radiohead, Queen, Enya and The Stranglers as a kid. As a teenager, he was also fond of Oasis, Flaming Lips, Radiohead, and Arcade Fire.
John Peel's radio show on BBC Radio 1 later allowed him to enter another world. Thanks to this programme, he was introduced to previously unknown music. When he left school for six months to travel around Central America, he was introduced to the world of "world music" by the Buena Vista Social Club project. What he remembers most about Cuba is the reggaeton blaring from the cars, the ubiquitous music and rhythms, the life and percussion. He also remembers Manu Chao's music coming from every hostel. But it wasn't until he went to the University of Glasgow to study Latin American Studies that he discovered a whole other world of Latin American folk and popular music that never ceased to interest him.
His first entry into this new world was cumbia. He wasn't a big fan of salsa, but there was something different about cumbia that was hard to explain. He finished school with a thesis on the classic song "Mulher Rendeira," which was associated with the legendary cowboy Lampião from the sertão region of Brazil. Time spent during a year studying in Buenos Aires and travelling around Latin America then immersed him in the music of the present and the past. He went to ZZK label parties and listened to a number of pirate CDs featuring the music of Huayno, Roots of Chicha, cumbias villeras to Venezuelan folk.
When deciding on his artistic name, he knew it had to be a bird. Birds are part of his life and represent something special to him. The nickname "El Búho", or the owl, made sense to him because owls are powerful, spiritual birds in many cultures – representing knowledge, mystery and a certain darkness. They are also nocturnal birds. His first solo recordings began to be released in 2012, but it wasn't until 2017 that he released his debut album, "Balance". Its title has the same meaning in Spanish and in English. He later followed this record with the albums "Camino de Flores" (2018) "Ramas" (2020) and several collections of remixes and compilations.
Enjoyment of life and climate change
El Búho's fifth album channels the sounds of, and his inspirations from, Latin America and the world of house and electronica. It features guest appearances from Colombian and 5 x Grammy nominated group Bomba Estereo, Nita from Spanish group, Fuel Fandango and Minuk, the husband and wife duo from Sweden and Colombia.
Strata is perhaps El Búho's most personal album yet, and represents his need to grapple with the desire to experience happiness, joy and gratitude in the daily life whilst processing the consequences of climate change and working toward bettering yourself and taking positive action to try and untangle the mess we find ourselves in.
Robin self-describes his sound as 'natural electronica' and he has been an integral part of the now firmly established, Latin American, alternative electronic music scene and regularly collaborates and performs with his peers such as Chancha Via Circuito, Nicola Cruz, Barrio Lindo and Dengue Dengue Dengue.
The single Timini is dedicated to Robin's second son Oscar who earned the nickname Petit Mini (Little Mini) which became 'Timini'. The track was inspired by the rustling wind and shaking leaves as Robin walked home from the hospital the evening after Oscar's birth, writing the whole track in one exhausted and emotional sitting.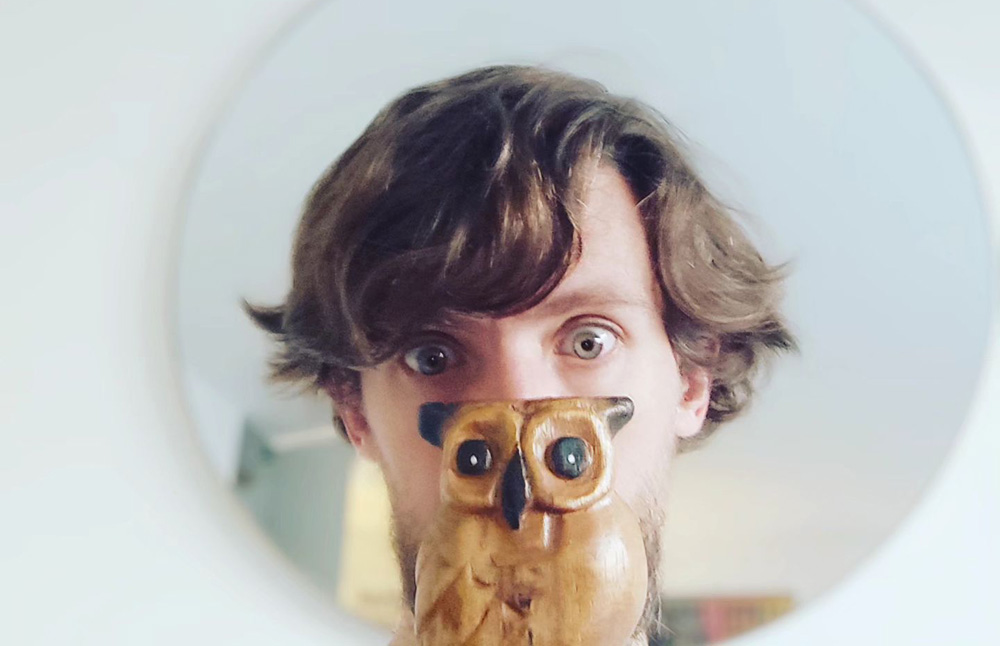 ---
"One thing I realised is that we don't all have to be incredible
activists, we can't all be 100% perfect all the time and we all live with contradictions. Living in anxiety or denial is not healthy and it doesn't help. Embrace the beautiful things in your life, find power in the collective and contribute what you are good at or passionate about"
The crux of Strata, the point in which it rose to reality came from the dynamic of trying to live in the moment and enjoy the privileged life many of us live, whilst at the same time presiding over an overwhelming sense of dread that the world will never be the same and, as climate change really starts to hit home, recognising there are incredibly difficult times ahead. It is about our attempts to find a place of peace, balance and fulfilment between these powerful strata above and below us.
NMR (foto: press El Buho)