Hollie Cook - Vessel Of Love (Merge Records , 2018)
British singer, songwriter and keyboardist Hollie Cook is about to premiere her third full-length solo LP Vessel of Love this Friday, January 26th – with a new single already climbing the charts! Continuing in her self-proclaimed "tropical pop" fashion, Cook accentuates reggae, dub and rocksteady vibes in between sounds of yesteryear, like 1960s acid rock and the synth-heavy styles of the early 80s. Being the daughter of Sex Pistols drummer Paul Cook and backup Culture Club vocalist Jeni, one could say Hollie was ingrained with musical prowess from the start. After leaving the femme punk/reggae group The Slits to pursue a solo career, Cook quickly teamed up with legendary producer and sound engineer Prince Fatty to provide vocals for his Survival of the Fattest reggae album in 2010, which subsequently led to launching her debut self-titled LP the following year. By May 2014, Cook released her sophomore album Twice, a project funded entirely via PledgeMusic, to much critical acclaim. Now nearly four years later, Cook is unveiling Vessel of Love – a tribute to love, loss and lunar addiction.
The album starts out tranquil, like sailing over calm waters. The track "Angel Fire" envelops the listener in the throws of passion and promise, with ethereal harmonized vocals that set the standard for the rest of the album. This is what love is supposed to be like: sweet, sensual, "strong and true". Any hopeless romantic and semi-escapist would love this psychedelic trancy track, layered with reverb and exhibiting a slight EDM edge in the form of a dubstep backbeat following the chorus. Let's "live in a house in a tree by the sea", proffers Cook, for why not? When you're in the midst of a promising love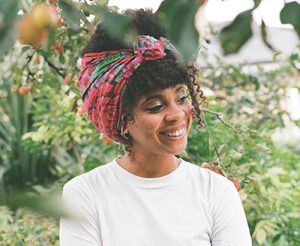 affair, practicality is an entity to be discarded. Ain't nobody got time for that…
And speaking of sailing, track two, is already making waves as the first single off the album. After being added to the BBC Radio 6 Music A-List and dubbed 'Track of the Day' by Clash Magazine for the Hempolics Remix version, "Stay Alive" is a song about self-preservation when faced with the scary side of love. A vast contrast from track one, this song has a haunting timbre and harrowing lyrics: at the dating stage when you're codependent on one another, when does doting stop and despair set in? Love is never easy, but messages of love should never require an SOS. Cook seems to know that call well, expressing in her new album both the good and bad of any budding relationship. And, if it doesn't work out, that's okay too! Sure, falling in love can get you on top of the world, but breaking free of a bad bond can be just as gratifying, evidenced in the track "Freefalling". Light as air, floating high on "little voices" singing praise for standing by your convictions, you can overcome any affliction of the heart. Like a waterfall, flow freely onto the next opportunity. Bye, Felicia. Speaking of connecting with nature, "Lunar Addiction" will get you blasted off into outer space with subtle electro elements and soft vocal delivery. Nothing like a tribute to the moon to trigger new beginnings.
Photo: press Hollie Cook