Alborosie - Unbreakable: Alborosie Meets The Wailers United (VP Records, 2018)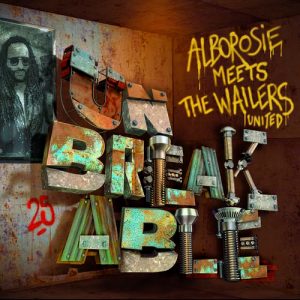 Singer, songwriter, DJ, producer, and multi-instrumentalist Alborosie ended up one of the more unlikely of Jamaica's dancehall and reggae stars. Born Alberto D'Ascola in Marsala, Sicily on July 4, 1977, the son of a retired police officer, Alborosie taught himself to play guitar, bass, drums, and piano, and by 1993, when he was just 15, he was playing in the Italian reggae band Reggae National Tickets, billing himself as Stena. In 2001 he decided to leave the group for a solo career, and moved to Jamaica to be closer to the musical culture that had so inspired him.
Officially adopting the name Alborosie, he began work as a sound engineer and producer in Kingston, participating in projects by artists like Ky-Mani Marley, while still continuing to work and develop his own material. He released his first solo album, Soul Pirate, in 2008, which generated a lot of positive critical attention internationally. He followed it a year later in 2009 with Escape from Babylon, which continued to build his fan base. 2 Times Revolution appeared in 2011, while Sound the System landed in 2013. A dub version of the latter album, Dub the System, landed later that year, then 2014 saw the compilations Specialist Presents Alborosie & Friends round up the singer's early singles while Sound the System Showcase collected a set of remixes. His 2016 effort, Freedom & Fyah, added more electronics, dub, and dubstep to the mix, along with guest appearances from Protoje and Ky-Mani Marley.
NMR