Les Amazones d'Afrique – République Amazone (Real World Records 2017)
Les Amazones d'Afrique are an all-female collective of west African musicians, campaigning for gender equality. They have been described as a supergroup, and the characterisation seems apt. Angélique Kidjo, Inna Modja, Kandia Kouyaté, Mamani Keita, Mariam Doumbia, Mariam Koné, Massan Coulibaly, Mouneissa Tandina, Nneka, Pamela Badjogo and Rokia Koné hold a strong pedigree, and it's a rare opportunity to witness such a collaboration; the real sound of contemporary Africa.
The album showcases the sparkling range and versatility of its songstresses. Running on funk and blues with dabs of dub; ancient rhythms blending seamlessly with their western appropriated cousins, Les Amazones d'Afrique sound like an aural actuation of the new melting pot cities of the African continent. Tracks are sung intermittently in English, French and Mandingo. At times, it's almost as if we are swirling about in several decades simultaneously: filthy backwards or wah wah guitars, distorted thumb piano, dreamy, jazzy chords and soulful singing over a pneumatic beat give way to the kind of Afrobeat best heard as the dawn rises in a muddy field in Europe during festival season. Liam Farrell (Doctor L), who has worked with Afro-pop king Tony Allen and Mbongwana Star, had a firm hand in leading the edgy, industrial feel to the production.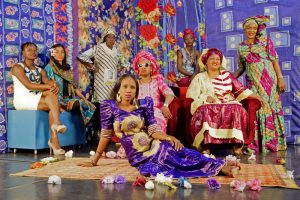 Angelique Kidjo has a glittering haul of Grammy awards, Kandia Kouyaté is one of Mali's finest griotte singers – while some of the younger musicians, like Nigerian singer/songwriter Nneka, have been the voices behind recent international hit singles. Between them they have years of charitable work supporting other women, alongside personal struggles of illness and disability that have been overcome. Mariam Doumbia – one half of the legendary duo 'Amadou and Mariam' – has managed to sidestep the prejudices associated with blindness through her music. Inna Modja, a victim of female genital mutilation (FGM), has bravely used her platform to campaign for its abolition. Although only a grainy snapshot of some of their singular achievements, this does give insight into why the group has been so successful as a collective, and why they have decided to curate this album: Republique Amazone.
Nneka says this was the first time she had worked with a group of other musicians where they had all put their egos aside. "I have personally had my own fair share of abuse and domestic violence. Hence I felt that connection to these women and to the project," she explains. "You are there with people who are talented, who have something to say. Most of them are older women who have had so much impact on their society, or on their hometowns. Just looking at that, it definitely inspired me. It gave me hope as well. I'm not out there alone. It's okay. Nneka you too can work, you can be a strong woman, yet you can also be a family woman."
In most west African countries, as in so many other places in the world, the inequality of the sexes is exacerbated and brutalised because of issues such as violence against women, sexual abuse, unequal access to land or education and FGM. In retaliation to this, the women of Les Amazones d'Afrique have decided to use music as their weapon in an attempt to address the mentalities that continue to perpetuate disempowerment. "We dare believe that music can contribute to the trigger of behaviour change," a spokesperson for the group once said.
Les Amazones d'Afrique help support and raise money for the Panzi Foundation, who have treated more than 85,864 girls and women with gynaecological injuries in the Democratic Republic of Congo, over half of whom are survivors of sexual violence.
Foto: Press