Nickodemus - A Long Engagement (Wonderwheel Recordings , 2018)
In the five years following his last solo album Moon People, Nickodemus has continued to spread his global sound through endless DJ tours, studio recordings, and scouting new music for his acclaimed Wonderwheel label. Many of the creative friends he's met along the way have provided the inspiration for his latest full-length LP. With a number of special guests including Ninja Tune vocalist Grey Reverend, star of Nubian pop Alsarah, Antibalas co-founder Victor Axelrod (Amy Winehouse, Mark Ronson) and recent Bonobo-collaborator Innov Gnawa from Morocco, A Long Engagement is a diverse sonic portrait mapping 25 years of connecting people through music.
For Nickodemus, his work has always revolved around the diverse spread of folks he's met with and collaborated during his travels. These experiences date back to the ripe age of 14, when Nicko started playing out his early DJ gigs in New York and throwing parties that spanned sounds and styles from reggae, to house music, hip-hop, and back again. From there were the first Turntables on the Hudson parties in the early 2000s, a string of legendary events that influenced his iconic first album Endangered Species. The Sun People and Moon People series followed in 2009 and 2013, which reflected the organic, sunshine filled music of his sets as well as a shift into the early morning sessions and electronic sounds that were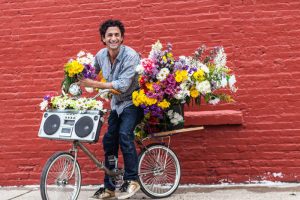 becoming more prevalent in nightlife.
All of the above has trickled in one of his most diverse sounding works yet on A Long Engagement. Throughout 13 tracks, Nickodemus reflects on his rich history working in NYC club music and abroad, including some fresher analog sounds, new collaborators, and old friends. Carol C, who sang on cult classics like "Cleopatra in New York" and "Mariposa" appears on the new sexy slow roller "Do You Do You?, a cover of a rare 80s Lebanese funk song. NYC native MCs The Real Live Show lay down another timeless exchange of verses on "Will You Still Be Here." with help from The Pimps of Joytime. Brooklyn-based afro beat band Antibalas appear across three songs on the LP, while Victor Axelrod lays down some keys on a cover of the soulful house track "Music Man." The album also includes some rising talents from Argentina's Patagonia region, Fémina, as well as Buenos Aires' own superstar, La Yegros, who both join Nickodemus across interesting fusions of Latin, Arabic, hip-hop, and dub music. You'll also hear Grammy nominated Innov Gnawa on the Moroccan influenced thumping dance-floor version of "Mystic Molay," while Grey Reverend lends a soulful vocal to album's finale 'Music Man."
Wonderwheel Recordings