OKRA PLAYGROUND – ÄÄNENI YLI VESIEN (NORDIC NOTES 2018)
The electro-folk group Okra Playground is mesmerizing on record and stunning on stage. Their music and live show will go straight to your heart. On this musical playground the kantele and bowed lyre, both ancient folk instruments, coexist in a new, exciting symbiosis with modern instruments and soundscapes. The music has roots deep in the Finnish soil, but its tallest branches spread out towards the furthest shores of world music. The strong voices of the three female singers, as well as the age-old lyrics, simultaneously take the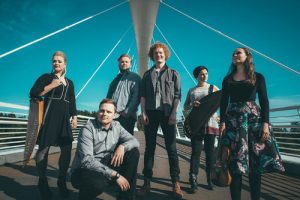 listener to far-off places and close to home.
Okra Playground's fresh music captivates the listener with its hypnotic beat and mystical energy. Okra Playground's long-waited debut album ​Turmio​ was released in October 2015 and was re-released by Nordic Notes in most of Europe in July 2016. The debut also took Okra Playground to perform as the only Finnish band on the Official Showcase program of World Music Expo WOMEX16.
The 23rd of March 2018 Nordic Notes will release Okra Playground's second album Ääneni yli vesien.
NMR (photo: press)