ORCHESTRA BAOBAB: TRIBUTE TO NDIOUGA DIENG (WORLD CIRCUIT 2017)
West Africa's most iconic dance-band are back. A decade on from their last album and almost half a century since their formation, Senegal's Orchestra Baobab return with a timeless set of classic, swaying tunes fusing Afro-Cuban rhythms and African tradition in the group's trademark style.
Recorded locally in Moussa X's Dakar studio, the new recordings sound fresh and yet reassuringly familiar, retaining the ripeness of the sound that made Orchestra Baobab a legend but interpreted with a vigour and vibrancy, and with a few twists, that are vital and captivating.
As enduring as the mighty African Baobab tree from which the group derives its name, the veteran core of the band remains as strong and sturdy as ever. Vocalists Balla Sidibe and Rudy Gomis, saxophonists Issa Sissoko and Thierno Koite and the long-serving, rock steady rhythm section of Balla Sidibe, timbales, Charlie Ndiaye bass and Mountaga Koite on congas.
Alongside this impressive continuity there have been changes in the ten years since Baobab's last World Circuit album, 'Made in Dakar' – but they have been executed seamlessly. Guitarist Barthelemy Attisso, now a lawyer in Togo, is absent due to the demands of his day job but kora player Abdouleye Cissoko from the Cassamance region in southern Senegal is a welcome addition. It's the first time Baobab has numbered a kora player in its permanent ranks but Cissoko's rippling strings have blended seamlessly into the sound and lent a fresh dynamic. Elsewhere Baobab's distinctive two saxophone attack – which combines the vibrato laden declamatory style of Issa Cissoko with the softer more lyrical playing of Thierno Koite – has been bolstered by trombonist Wilfried Zinzou and the young virtuosic guitarist Rene Sowatche, both from the fertile musical pastures of Benin.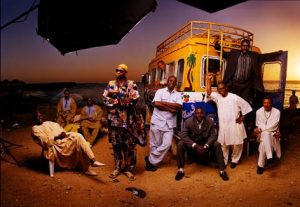 Veteran vocalist Balla Sidibe is a commanding presence on the album with his triple threat of musical influences – Manding from Guinea/Mali, creole from Cassamance and Afro-Cuban. Two special guests memorably add their voices to the mix. Cheikh Lo dropped by the studio to add his soulful tones to 'Magno Kouto' and Thione Seck – who left Babobab in 1979 for a career as one of West Africa's biggest solo stars – reunites with his old band mates for the first time in over 35 years to reprise his first hit 'Sey'.
'Tribute To Ndiouga Dieng' is dedicated to one of the bands original vocalists who sadly died in November 2016. His songs will continue to be sung with the band by his son Alpha. It represents the latest chapter in a long and storied career that started in 1970 when the newly-formed Orchestra Baobab helped forge Dakar into one of the world's most vital musical cities. Over the next decade the group dominated the local scene and produced countless hits before disbanding in the early eighties.
A huge groundswell of international interest in their original recordings – and in particular the acclaim that greeted World's Circuit's reissue of their legendary 1982 album 'Pirate's Choice' – led to the triumphant reformation of the band in 2001 and their award winning comeback album 'Specialist In All Styles'.
Since then they've toured the world to international acclaim and have now been back together as long as they were in the belle epoque of the group's first incarnation. This, their third album since their felicitous comeback – produced by Nick Gold, Lamine Faye and Jerry Boys – is an irresistible mix of velvet harmonies, warm and heartfelt vocals, smoky sax and sweetly shimmering kora and guitar lines, expertly crafted and masterfully delivered with a poise and virtuosity built up over a lifetime.