Listening to the music of Pekko Käppi And K:H:H:L, you might get the impression that the Finns celebrated rock and blues hundreds of years ago. Their fifth album "Credo" confirms this.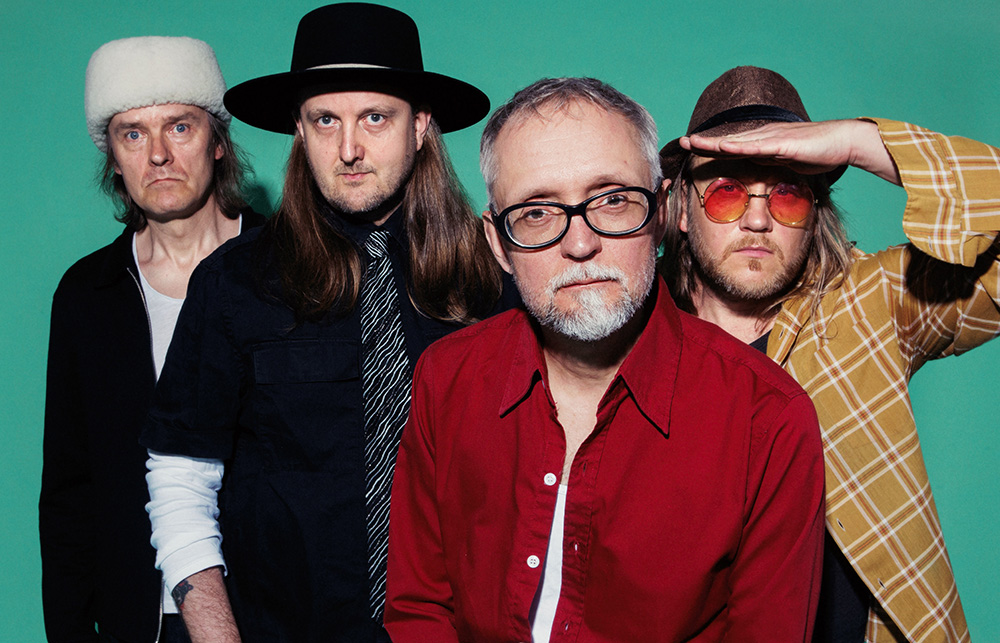 ---
You could almost get the idea that the Finns celebrated rock and blues hundreds of years ago when you listen to Pekko Käppi: Because the hotshot from Tampere plays his partly electrified Finnish-Karelian lyre Jouhikkowith such passion that you could sometimes imagine yourself at the legendary Tuska Festival in Helsinki!
His musical comrades-in-arms K:H:H:L (which translates as "the bones of the dead, crazy horse") are in no way inferior to him here. But first things first: Pekko Käppi has contributed significantly to the renaissance of the almost forgotten jouhikko in Finland. Together with his fellow musicians Nuuti Vaapaavuori on bass, TommiLaine on guitar and Gilbert Kuppusami on drums, who are known as mavericks, Pekko Käppi dives headfirst into the pagan Finnish past. He proves that the archaic sounds harmonize perfectly with rough southern blues andgritty rock. Guest vocalists on "Credo" are Laura Moisio and Kielo Kärkkäinen. The band aptly describes its own style as"Scandinavian Voodo".
They also add a strong extract of American blues to their music, which mostly drowns out their pagan inspirations. In the end, what comes out is folky multi-blues-rock without pure genre shapes. And that's a good thing, because the pure shapes of blues-rock have been worn down for at least 40 years, they need to be bent and polished.
That Pekka Käppi used to play in a rock band is not really surprising. His jouhikko playing is a dirty, sweaty affair. Ancient Finnish curses play an authoritative role in his songs when the master dives into the summery Finnish swamps. By my blood, mama: this troupe would not stand out as outsiders in Wacken! Young Pekko was lucky enough to have his very own revival experience as an exchange student in the USA: He saw the Grateful Deadlive! The fact that Jerry Garcia also uses folk elements in his arrangements left a lasting impression on the Finn.
---
Their music is dominated by Finnish, acoustic and electric guitars and alternative sound
"Credo" is already the fifth album of Pekko Käppi & K:H:H:L. Actually, the band did not plan to start recording new material so quickly. But in April 2022 Pekko received the news that the legendary, fully analog music studio"The Sound of JJ" in Tampere would close. Owner Juuso Nordlund had founded the studio in 1980 and recorded hundreds of important albums in Finnish music history here. Immediately, Pekko booked two days in the studio and rounded up his loyal musical comrades-in-arms K:H:H:L.
They had no plan, but one goal: to experience the craftsmanship of analog recording at its best! They tuned their instruments, and after eight hours they had recorded nine songs. They spent the second day drinking coffee and admiring the mixing process."Credo" is all about capturing the fleeting moment.
Numerous musical traditions from Finland have flowed into the nine songs. And the impulses that the drummer Gilbert Kuppusami, who lives in Mauritius, brought with him. But it's also about the analog process of recording music. Fun fact: The album contains "Melanz Kiltir", the first Finnish folk-rock song sung in Mauritian Creole! Also included are two songs based on the repertoire of the legendary Finnish folk singer Taavi Uutela (1883 to 1969).
"In your face, artificial intelligence!" is how Pekkosums things up. And what does the title of the album mean? That's up to the listeners to decide, says the band. But the title also has to do with the Finnish saying, "What's left when there's not much left?
NMR (photo: press)