HELSINKI-COTONOU ENSEMBLE – WE ARE TOGETHER (BAFE'S FACTORY 2018)
Helsinki-Cotonou Ensemble's story is rather unique. In january 2012 three musicians from Helsinki, Finland followed their dream and travelled to Benin, West-Africa. They hooked up with virtuoso singer/percussionist Noel Saizonou, called up the best musicians from the country's biggest city Cotonou, and so was the first edition of Helsinki-Cotonou Ensemble born.
During the period of six weeks, the group went through some incredible adventures in the homeland of Voodoo, rehearsed daily, played three shows and recorded an album. Later the album was completed and mixed in Finland, and it's release on May 7th 2013 was followed by a tour of 19 concerts and plenty of acclaiming press.
HCE's music is all written by the band's guitarist Janne Halonen and percussionist/ lead vocalist Noel Saizonou. The writing process started as early as 2009, when Halonen first travelled to Benin to learn the traditional rhythms of Voodoo. For three years Halonen and Sazonou bounced ideas and searched for the right people for their project.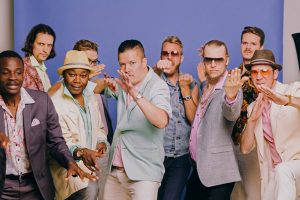 When Sazonou visited Finland in 2011, drummer Juha Raesaenen and bassist Sampo Risikilae joined the project. The quartet became the core of HCE, and it was to be strengthened with local super musicians, whether the band operated on European or African soil. The current and for now established line up of HCE is listed below.
Helsinki-Cotonou Ensemble impresses it's listener not only with intense moods and joyful yet virtuoso performances, but also with fresh and carefully crafted songwriting. As composers Sazonou and Halonen are enough far apart to make the cocktail something completely new, yet they both possess enough musicianship to complement each other's works.
In April 2017 Helsinki-Cotonou Ensemble was signed to an independent record label "Bafe's Factory" and begun working on their 4th album. The first single "Nonvi tche – My Brother" was released in October 20th, and the whole album is expected to come out in spring of 2018.
NMR (photo: Helsinki-Cotonou Ensemble)