Dub Inc - Millions (Idol/Cargo, 2019)
Originally from Saint-Etienne in France's industrial heartland, Dub Inc fuse classic roots reggae with dub, dancehall, ska, hip-hop and African influences. They create an intoxicating musical hybrid with highly charged and socially conscious songs which have earned them cult status in their native France.
Their wild, high-octane live performances led to an ever expanding and loyal fan base. With a fierce independent spirit and away from the media spotlight, Dub Inc have become the most successful reggae band playing in Europe today, and are now a fixture at major festivals across the world, having already appeared at Paleo, Francofolies, WOMAD and headlined Rototom Sunsplash or Summerjam.
Charismatic lead singers Hakim "Bouchkour" Meridja and Aurelien "Komlan" Zohou sing in English, French and Kabyle (a Berber language native to Algeria). Backed by deep rolling bass (Moritz Von Korff), keyboards (Frédéric Peyron and Idir Derdiche), guitar (Jérémie Grégeois) and drums (Grégory "Zigo" Mavridorakis), Bouchkour and Komlan convey strong positive messages through their striking vocals creating music with a truly universal appeal.
Since forming in 1997, Dub Inc have produced six studio albums, two EP's and two live albums. Their new album "So What" (2016, Diversité) perfectly embodies the potent combination of infectious energy, distinctive melody and engaged, combative lyrics.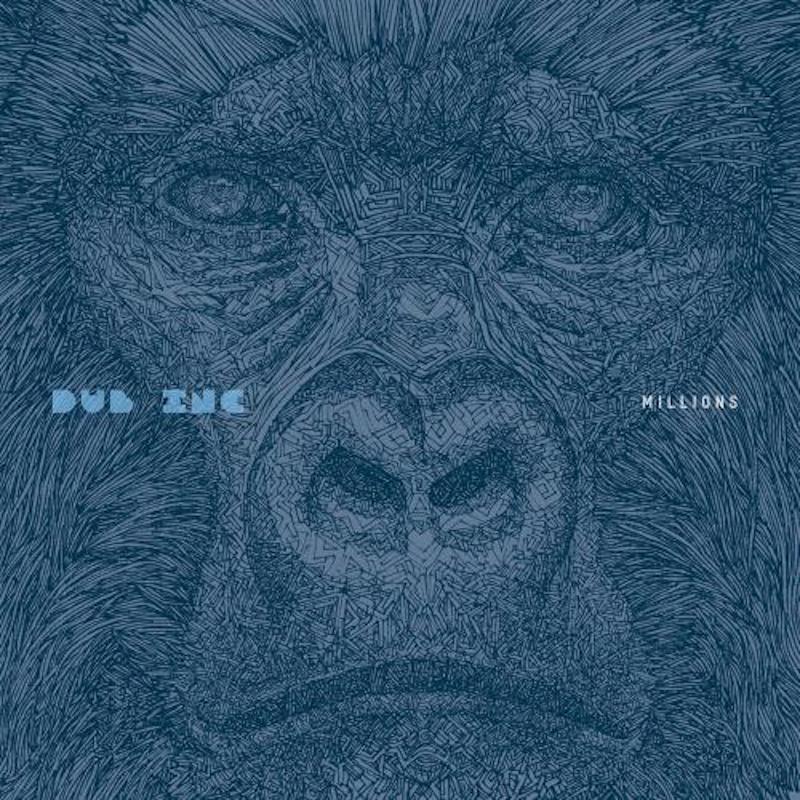 The 14 new tracks on the album "Millions" included were recorded in their own studio in Saint Étienne and will appeal to all long-time fans of the band, as they are 100% Dub Inc: driving beats, charismatic vocals and conscious lyrics make the album a worthy successor of their 2016 release "So "What. Their approach is, again, a serious one. Politics, current world affairs and injustices are picked up and framed into words that are far from genre-typical contributions. No repetitive Ganja tune, no happy-clappy beach- or party-songs, no overly devout praises – their focus is a different one!
With the powerful "On Est Ensemble", the album is off to a great start. A rallying call for all those who defy injustices of the system they live in, it reassures the rebels, manual workers and poverty-stricken citizens that we are together in this. The rather average instrumental of Couleur is made exceptional by the guitar pattern so sentimentally woven into the tune's body. It talks about arbitrary borders into which countries are confined, and how it doesn't matter what colour you are – we all are made to shine!
"Dans Ta Ville" captivates us with the raw vocals of Komlan, contrasted with Bouchkour's high-pitched singing and rapping. To be honest, the two of them are a bit too fast-paced for me to understand everything they are talking about, but I can picture the raised arms waving left to right in unison once they bring this song to the stages.
Expressing the painful experience of growing up in unfamiliar surroundings without a father, "À Tort Ou À Raison" opens another sound dimension by Massa Dembele's play of the kora. This practice of incorporating the world's sounds into their music is one of the many reasons that make Dub Inc so fascinating, another example of this fact being "Chaâbi". The track contains four additional instruments: a Banjo, played by Kati Didine, a Mandole played by Alaoua Idir, Violon by Caroline Cuzin-Rambaud as well as Derbourka & Bendir played by Rabah Khalfa. Coupled with the plaintive vocals of Bouchkour, singing in his native tongue Kabyle, this track is a sonic experience you should make sure to dive into with full attention!
The title track now… a harsh critisism of the ruling elite who deal with thousands and Millions of Euro that are invisible to the rest of the world, it captures the spirit of the album, advocating for an intelligent resistance, for a culture of well-informed people who know what's going on and act accordingly, instead of just repeating slogans blasted out by others.
Celebrating all that is natural, Authentique takes a stand against plastic eyes and mechanic gestures on a fast-paced, almost Dancehallish beat. Loosen up and dance to this!
Only feature of the album, Million Stylez joins forces with the two singers to deliver "My Bro'", a trilingual piece talking to us in English, French and Arabic. Special mention deserves the Dub version of this tune, carrying the handwriting of Guido Craveiro, who was responsible for the album mix.
Acoustic on the onset, Inès is a masterpiece of composition, developing an interesting, captivating song-structure. It takes a while for this energy to unload, but when, at 3:25, the drums kick in, the moment is there.
With "A La Fois, Nos Armes" and "Fake News", the thematic scope is broadened still before the final En Nous closes this new chapter in the band's history.
In any case, "Millions" is a piece of work you shouldn't miss if you are open for the different routes Reggae takes around the world.
NMR (photo: press Dub Inc)