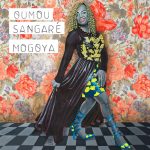 The wait is finally over. The greatest living female voice in African music, Oumou Sangare releases a new album "Mogoya" (meaning "people today") on a new record label with an all-new production team and a wonderful new set of songs.
The power of Oumou's voice and the potency of her message remain as strong as ever and, while her sound is rooted deep in the continuity of Malian tradition, Mogoya has a strong new sound. Co-produced by Andreas Unge in Stockholm and by the French production collective A.l.b.e.r.t. (who have worked with among others Air, Tony Allen, Charlotte Gainsbourg, Beck, Franz Ferdinand) in Paris, it draws on a rich musical heritage whilst also looking to the future.
"We wanted to emphasise the raw power of Oumou's voice and songs. We wanted to find a new modernity" says co-producer Ludovic Bruni, one of the three members of A.l.b.e.r.t. with Vincent Taurelle and Vincent Taeger.
On the album, traditional African instruments – the kamele n'goni (harp), karignan (metal scraper) and calabash percussion – are augmented by electric guitar, bass, keyboards and synths with Tony Allen on drums. As Oumou puts it, "This time round I wanted to go for more of a modern sound, to satisfy young people in Mali but being careful, all the while, to res18pect my culture and tradition".
The songs describe what Oumou knows best – human relationships. She addresses difficult topics with incredible frankness – jealousy, ingratitude and betrayal – never afraid to sing about the day-to-day problems faced by African society, particularly women.
Oumou has a high international profile, touring all over the world, collaborating with artists such as Alicia Keys, Tracy Chapman, Bela Fleck and Dee Dee Bridgewater and featuring on the soundtrack of Toni Morrison's Beloved. She is a Goodwill Ambassador for the United Nations Food and Agricultural Organisation and has three businesses in Mali – a range of SUVs called 'Oum-Sang', a hotel in Bamako and 'Oumou Sangare 769; Rice', grown in her own fields.
She has released six albums on the World Circuit label: Moussolou, meaning "women"(1990), Ko Sira (1993), Worotan (1996), Oumou (2003), Seya (2009) and Kounadi (2012).
Music is at the absolute centre of Oumou's life: "without it I'm nothing and nothing can take it from me" and Mogoya represents an exciting new chapter in her career – something which she approaches with a mixture of boldness, humility and confidence."It was new for me because my music has never had this kind of arrangement and sound before. I've been totally in the tradition for years now so to get out of that and have a look around elsewhere was a total pleasure," Oumou Sangare.
Photo: Benoit Poverelli