Sara Tavares - Fitxadu (Sony Music, 2017)
Throughout her personal journey, Sara Tavares has deepened a musical identity that integrate diverse elements be they Africans, Portuguese or simply universal, reaching today a very own or even unique sound. Her talent not only as a singer but also as songwriter and producer has been growing, reflecting an experience shared by Portugal, Cape Verde or the constant travel that carries out in the rest of the world. With 5 cds and 1 dvd released between 1996 and 2017, was with the album "Balancê" that the world met Sara Tavares; her genuine international introduction, with editing all over the world, and the confirmation of a singer – songwriter capable of bridging the gap between Africa and Europe with a very personal sensitivity. All recognized by the commercial success and critical acclaim; Sara Tavares was nominated as Best New Artist for the BBC World Music Awards in 2007.
"If the sunlight had a sound, it would sound like the voice of Sara Tavares" (wrote the British magazine Taplas) .
Through the remarkable success of her album "Balancê" Tavares acquired an international status, and then follows with "Xinti" (Feel it), a magnificent collection of self-penned songs which display interesting developments in her vocal style, songwriting, and new cross-cultural musical fusions.
Sara Tavares was born in Lisbon, in 1978. As a teenager she discovered gospel music and through the radio at home, she was hooked on the Motown classics and R'n B songs. Her favourite singers were Stevie Wonder, Aretha Franklin, Donny Hathaway, among others.
In 1993-4, she won the national TV competition, "Chuva de Estrelas" (Rain of Stars) and the National Portuguese Song Contest, and entered the Eurovision Song Contest where she got the best classification ever for Portugal until that time. From there, a contract with BMG records brought her a cd release titled "Sara Tavares and Shout" (BMG,1996) – a gospel music record.
In following years, and while on tour with Shout, Sara Tavares started feeling the need of having her own sound and voice. She started getting closer into Lisbon's burgeoning African and Cape Verdean music scenes, talking with musicians and listening. She started playing guitar and composing. And finally started the search for the sound she was looking for her new record. This process led her to meeting the Paris-based African guitarist, singer and producer Lokua Kanza and inviting him to produce the album together with her.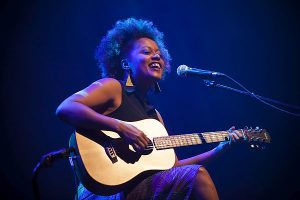 "Mi Ma Bô" (BMG, 1999) was still rooted in R'n B, but they created an upbeat Afro-pop mix. It earned her a gold disc in Portugal and the prize for the Portuguese Grammies (Globo de Ouro) for Best Singer (individual). With this album, Sara Tavares performed in some European and African countries and Brasil but it was her showcase at Womex 2001, in Rotterdam, that really open the international doors for her. When the next record came out, all programmers were ready to receive her.
And the next record was "Balancê" (WC, 2006), produced by Sara Tavares herself as result of her continuous search for her personal sound. It earned her platinum disc in Portugal and it was her international launch pad; Balancê Tour took her to Europe, Japan, Africa and the USA. The focus of her songs had shifted to Cape Verdean and African music, and they were sung in Portuguese, Cape Verdean Creole and local street slang. Besides being nominated for the BBC World Music Awards, Sara Tavares was invited to the iconic BBC Show "Later…with Jools Holland", being the first Portuguese artist to perform there.
The fourth album "Xinti" (WC, 2009), meaning "Feel it", also produced by Sara Tavares, moves the story on, seeming to echo the singer's inner journey. More lyrical, sensual and textured, several songs are less upbeat but also include irresistibly funky rhythms drawn from the Cape Verdean/African diaspora. Tavares compares the themes of "Balancê" – built around the Cape Verdean identity and multi-culturality – with "Xinti" which she describes as "like an inner prayer from someone taking a deep breath and moving on. Unfortunately, after a year being on tour Sara Tavares found out she would have to have a brain surgery and was forced to retire for some time.
When she was ready, she returned to the stage in completing the tour adjourned, leading Xinti, its energy and inspiration to where it had not been possible to take, being invited to sing with artists like Joss Stone, Nelly Furtado, Buraka Som Sistema, among others and continuing to be recognized by the public and the media; earning the award for best female voice in the Cape Verde Music Awards and being honored in Germany at the Africa Festival.
In 2014 Sara Tavares celebrated 20 Years of Music.
This celebration took place in two sold out concerts in Lisbon . It was a beautiful concert and production that went through all the most important moments of Sara Tavares musical career. One of the guests on stage was her longtime friend now – Lokua Kanza – they performed together one of the most special moments on stage. The media was unanimous talking about a Sara Tavares mature and at its best!
By the end of 2016 there was a new single "Coisas Bunitas" which quickly got the audience's attention (more than 1 million views on youtube), suggesting that an album was coming. We only realise how much we missed her when her gentle voice takes over our senses and the body yields effortlessly to the swaying , as if we were back to the childhood home, to a familiar place, to a sweet happy memory, and discovered everything has remained untouched. This is the general feeling about the idea of Sara Tavares recording a new album; we just missed it and we were sure of it when we heard her voice again. "Coisas Bunitas" (Beautiful Things) brought us that; so fresh, so let us desiring for more.
And more came, already in 2017:
The second single "Brincar de Casamento" (Playing of Getting Married).
For this song Sara Tavares invites Toty Sa'Med and Kalafa Epalanga, both from Angola, to compose and write the lyrics with her, inviting then Toty Sa'Med to sing with her. Toty Sa'Med is one of the most promising and sensitive young singers and musicians from Angola. And the result is just perfect! It just makes you wish it doesn't end. Sara Tavares lefts us with a perfect tune to smooth our longing for the album.
And the album came: "Fitxadu" (Sony Music, 2017) is the fifth studio album released on 27 October, 2017. "Fitxadu" ("Closed" – in creole from Cape Verde) means that something is closed and will never be lost. In Cape Verde there is the expression "fitxadu na petu" (closed in the chest/heart); something that will not leave or end. Sara Tavares participates in the composition of almost all the 11 themes, either as composer or lyricist. The exception is "Para Sempre Amor" with lyrics and music by Bilan. The difference from her previous works is that in "Fitxadu" there is an idea of ​​a more shared work, both at the level of the compositions themselves and at the level of the production of each song.
Paulo Flores, Toty Sa'Med, Princezito – who, in addition to a partnership in the compositions, sing in a duet with Sara Tavares – Nancy Vieira, Kalaf Epalanga, Paulo Flores, Manecas Costa, Bilan, Conductor, Boddhi Satva, Loony Johnson, are just some of the composers and producers with whom Sara Tavares collaborated to obtain the colors she was looking for. Colors that go by exploring new sounds in her music; the introduction of more electronic elements that complement the wealth of arrangements of acoustic instruments, and of course, the voice, this unique voice, which we recognize at a distance; an ambassador of melodies, rhythms, words and effects.
With "Fitxadu" there is a closure of a cycle. And in this new stage that begins, there remains the will to continue creating in this process a little more collective and less individual. And that can only bring good things! For now, you have to listen and taste "Fitxadu" and it will be inevitable to dance as well. But do not forget: once you listen to it, it is "fitxadu na petu". In 2017, Sara Tavares was honored with the Cultural Merit Medal by the Prime Minister and Minister of Culture of Cape Verde.
Photo: Archive