Souad Massi is a successful Algerian singer, also known worldwide. On her tenth album "Sequana" she expresses her feelings against oppression, war and corruption with a soft and sensual voice.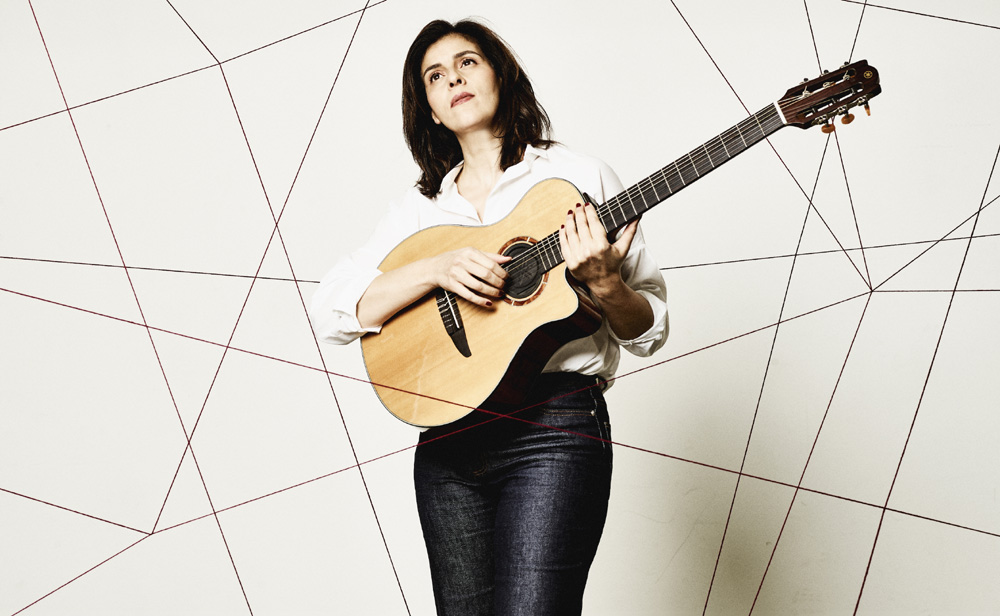 Born in 1972 in Bab-el-Oued, a district of Algiers, Souad Massi grew up listening to chaabi and to Kabyle songs filled with remarkable poetry. She loved songs where the texts took precedence, as in the repertoire of French chanson, and says she was fascinated by the unique lives of certain artists such as Michel Berger or Dalida. Later she fell for the melodic country music of Kenny Rogers, and was a great admirer of the abrasive societal criticism of Bob Dylan and Joan Baez.
Intellectually solid, with a scientific background (she is a graduate of the School of Civil Engineering), she made her way through the artistic world amid the musical currents of Algiers in the 1990s. Moving into flamenco with the group Triana from Algiers, then to heavy metal with Atakor, she also studied Western classical music.
She first came to Paris in 1999 to sing at the Cabaret Sauvage, with her first cassette tape in her pocket and was quickly noticed by the label Island-Mercury. Since then, she has chosen to live in France. "Algeria is imprinted in me; in reality they are two parallel worlds which provide me with nourishment; like a plant, I can reach down and tap into my creative resources from them both."
The new album is a child of pandemic
Sequana is the tenth album by Franco-Algerian singer-songwriter Souad Massi. If her music was previously coloured with folk and chaabi, the sound palette broadens here as far as the Sahel, the Caribbean and Brazil. With Justin Adams (Rachid Taha, Tinariwen, Robert Plant) on production, and guests including singer/songwriter Piers Faccini and the flautist Naïssam Jalal, Souad Massi continues on her path as a committed, liberated woman singing about the causes close to her heart.
On the cover, we see her facing us, with two daisies delicately placed on her eyelids. Under the flowers, with eyes closed, "I had this feeling of fragility, vulnerability, but also of no longer having to witness the ugly vision of nature being destroyed". In this state of being, "we can reconnect with what is essential. At the same time", continues Souad, "it is, paradoxically, a sort of denunciation and indignation with regard to what we are experiencing and what our gaze perceives".
The new album is guarded by the goddess Sequana, the Gallo-Roman goddess of the Seine springs.
Sequana is a collection of ten songs, nine of which were written by her, with the intention of capturing the passage of time and that which we must strive to preserve and pass on.
"My album revolves around human relationships, from the malaise of today's adolescents and a loss of bearings, to the dangers of
totalitarian regimes that push people to take terrible risks in order to flee their country".
The album draws on a diversity of musical styles – folk, country, rock, calypso, bossa, along with sounds of the Middle East and the Algerian desert. At the suggestion of Justin Adams, this rich palette of styles was embraced by Souad, who invited Piers Faccini to join her on Mirage and, for several tracks, Naïssam Jalal on flute, including L'Espoir, a bossa-tinged song sung in French, written with Michel Françoise.
The opening track, Dessine Moi Un Pays, sung in Arabic, was inspired by exile, as she puts it: "those people who cling to planes leaving Kabul when the Taliban returns. It was for them that I wrote this song. But also because I cannot subscribe to the discourse of fear that is developing here; it can only ever create a country where people will be singled out for having a skin colour other than white." But the song is not without hope, inviting us to think about our relationship to others and resist destructive forces.
On the title track she seizes the poetry of the Arabic language to describe the difficulties of adolescence, using the ancient myth of the goddess Sequana who watched over the fresh water springs of the Seine and was considered in Gallo-Roman times to have healing and curative powers.
All the new songs are sung in Arabic and French and were conceived during the pandemic, when the world was experiencing withdrawal and solitude. "COVID has brought to the surface our buried fears. I have always been afraid of the unknown", says Souad. "Those things that are beyond our control, the anxiety that can emerge as night closes in, abandonment, loneliness… In order to create, to put words on these deep feelings, I have to go in search of our life force, of rhythm, and drive".
NMR (photo: Yann Orhan)