KASAI ALLSTARS & ORCHESTRE SYMPHONIQUE DE KINSHASA – AROUND FELICITÉ (CRAMMED DISCS 2017)
Deeply impressed by the music of Congolese collective Kasai Allstars, French-Senegalese director Alain Gomis drew inspiration from their music, and from the voice and character of their singer Muambuyi to write and direct his new fiction movie, entitled "Félicité". The film's eponymous protagonist is a proud, free-willed woman who sets out on a breakneck race through the streets of electric Kinshasa to save her son. Her profession: singer with Kasai Allstars! "Félicité" was presented in competition at the Berlin International Film Festival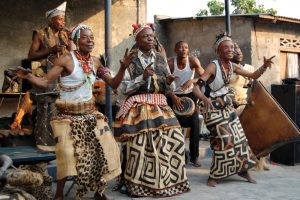 2017, where it obtained the Silver Bear Grand Jury Prize.
The band wrote and performed most of the soundtrack, and appears onscreen playing their own part. Muambuyi's voice is omnipresent, and is being heard everytime Félicité (played by Congolese actress Vero Tshanda) sings in the bars of Kinshasa, backed by Kasai Allstars.
The "Around Félicité" album includes the film's main pieces, performed by Kasai Allstars and by the Kinshasa Symphonic Orchestra (who specially arranged three works by Estonian composer Arvo Pärt), alongside new tracks by Kasai Allstars, as well as interludes consisting of fragments of dialogues and sound bites taken from the soundtrack.
NMR (photo: archive)