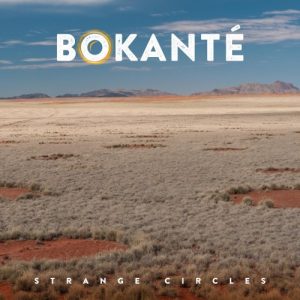 BOKANTÉ – STRANGE CIRCLES (GROUND UP MUSIC 2017)
For the newly-formed international music ensemble Bokanté, connection is the foundation upon which all things are built. Among the members themselves, the connections span almost two decades. But outwardly, the band's formation was born in the desire to connect with society and the problems most urgently facing it. Rich in the sound of both delta and desert, the unusual but evocative instrumentation blends musical worlds to convey an urgent message of social awareness against the rising tide of exclusion and human indifference.
The word Bokanté means "exchange" in Creole, the language of vocalist Malika Tirolien's youth growing up on the Caribbean island of Guadeloupe. Now living in Montreal, she stands among 8 musicians from 4 continents, each one accomplished in their own right and well versed in music far beyond that of their point of origin. Three-time Grammy award-winning guitarists Michael League, Chris McQueen, and Bob Lanzetti (all from Snarky Puppy), percussion legend Jamey Haddad (Paul Simon, Sting), pedal and lap steel virtuoso Roosevelt Collier (Lee Boys, Karl Denson), and unplaceable percussionists André Ferrari (Väsen) and Keita Ogawa (Banda Magda, Yo-Yo Ma) come together to create a diverse ensemble rich in groove, melody, and soul.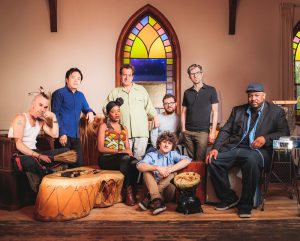 An experiment conceived by Snarky Puppy founder and GroundUP Music creator Michael League (who has traded his bass in for a baritone guitar in this group), the process of formation was all but conventional. The music and some of the melodies were written by League, demoed while on tour with other bands, and then sent to Tirolien with lyrical concepts attached. Tirolien then wrote lyrics and melodies, demoing and ping-ponging the new content back to Michael. Many of the musicians had never even met until the first day of recording. By the end of the week-long session in upstate New York's legendary Dreamland Studios, the band felt abnormally cohesive. "Unity was paramount in the formation of this group," observed League. "Though the ensemble is multi-lingual, multi-cultural, and multi-generational, we all feel connected as musicians and people. And in combining our different accents I feel that there is a strangely common and poignant sound, one that can reach and relate to listeners around the world."
The band's debut goes from Zeppelin-esque blues stomp to folkloric Caribbean kaladja over the course its ten tracks, blending the extensive and varied knowledge of the individual players with a strong, yet empathetic, lyrical approach. Singing in both Creole and French, Tirolien's words draw nuanced pictures of the struggles we face in our world today- racism, the refugee crisis, a dying planet, apathy towards human suffering- and offer words of thankfulness for those things which unify us, as well as hope for the future of our race. Through it all, Bokanté is a vibrant image of what it wishes to see in the world: connection, unity, and love- through exchange.
Photo: press Bokanté