Onipa means "human" in Akan, the ancient language of the Ashanti people of Ghana. It's a message of connection through collaboration: from Ghana to London, from the ancestors to their children, Onipa brings energy, groove, electronics, forward-thinking Afro-futurism, dance and fire!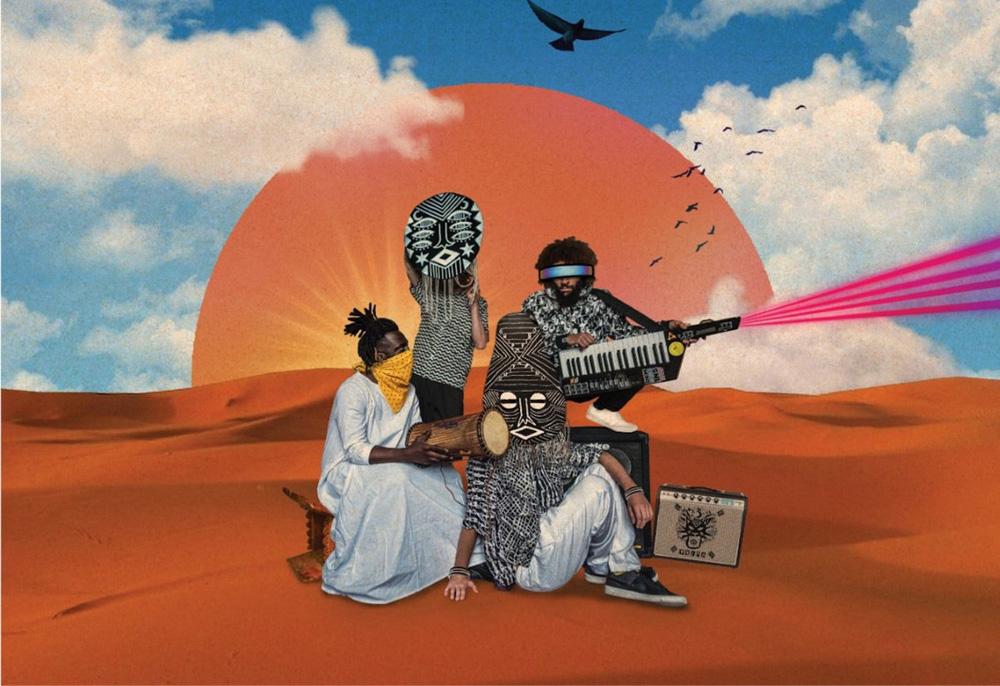 Born out of a deep collaboration between long-time friends KOG (Kweku of Ghana / KOG and the Zongo Brigade) and Tom Excell (MD, guitarist and writer of acclaimed jazz / soul Afrobeat pioneers Nubiyan Twist), the 4-piece live show features KOG on vocals, balafon and percussion, Tom Excell on guitar, percussion and electronics, Dwayne Kilvington (Wonky Logic) on synths and MPC and Finn Booth (Nubiyan Twist) on drums.
The group have worked closely with Ghanaian star Wiyaala who features on three tracks, singing in the Sissala language from the North of Ghana. The album also features collaborations with South African rapper Spoek Mathambo, Lesotho star Morena Leraba, Ghanaian percussion master Afla Sackey, UK rapper Syntax and Tanzanian sisters Pendo & Leah Zawose, each adding their own flavour to the project.
"As we chase the morphic resonance of African art, sound and movement into new worlds, we find stories of the past answering riddles of the future. Tales of existence and resistance, of our innate ability to positively connect, express, share and create. Tales of extending our natural abilities beyond our own survival, to the survival of the planet, reminding us that our ancient connection with the earth must not be traded for technology and materials. Through the musical prisms of London and Ghana our influences join together to create a new sound, 'Savanna Bass'. A fundamental thread of traditional African rhythms, instrumentation and storytelling, interwoven with electronics, urban soundscapes and synth bass. We use technology, but it should never use us, our music is live and about deep human connection." 
Building on a stellar performance at the 2019 Felabration at Paradiso Amsterdam alongside Pat Thomas and Dele Sosimi, Onipa have a full UK and EU tour scheduled for Spring and Summer 2020.
Onipa also lead this announcement with their brand new single 'Fire', a deep outing sitting on the faultline between analogue synth-experiments and Ghanaian highlife.
NMR (foto: press Onipa)