On new album "Let Me Out", the Ukrainian-Canadian group Balaklava Blues presents a captivating mixture of explosive electrobeats, folk noir, echoes of Ukrainian folk songs and the captivating vocals of singer Marichka.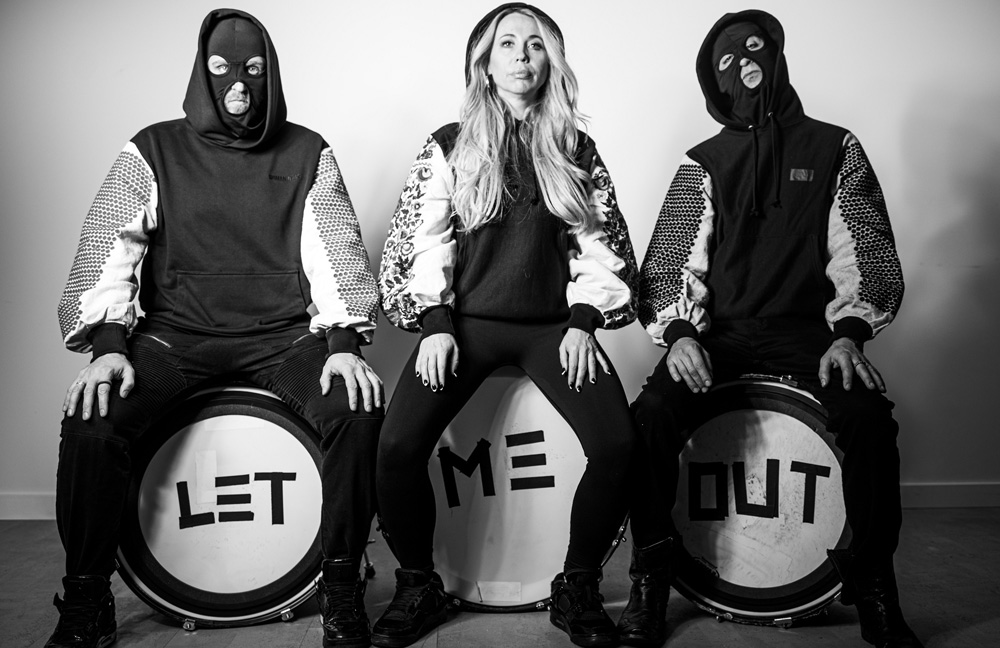 ---
"When Russia invaded Ukraine and millions of women and children started to flee across borders on foot, we understood that this song ['LET ME OUT'] was about more than our personal or cultural experiences, it was a matter of global significance. And every song on the album felt heavier and more potent when viewed through this lens. The songs all stand up individually, but when you unite them under the collective outcry to LET ME OUT… they fly like air strike." Mark Marczyk of Balaklava Blues.
The seeds of the album 'LET ME OUT' were planted "on the thin red line and it is an unhinged reflection on the effects of war on our perceptions, emotions, and fragile concepts of freedom, democracy, and love." Mark Marczyk. It "is about being inspired by human life experiences – through our personal life challenges – to inspire other people to focus on important things – love and joy." Marichka Marczyk.
The songs of 'LET ME OUT' were largely written during the lockdown period, when everyone was feeling trapped in their homes, so there was a universality of plight about the messages contained within.
When Russia launched their full-scale invasion on February 24th this year, they were in rehearsals for Dogs of Europe in London, which is a show exactly "about the rise of the Russian Reich in the face of European apathy. All of a sudden, the songs were not just songs. They were history. They were the truth. February 24th made everything clear." Mark Marczyk.
---
Marichka speaks of the detonating shock that the news of the unprovoked invasion was for her and how she was left broken, breathless, voiceless. But gradually, "All the painful and sharp corners of our songs turned into strength. The strength and power of the voice returned. I found a way out. And I want to help, through these songs, find this way for people who cannot help themselves. We can do it together."
An impressively creative theatricality runs through this album.
Tracks 'Gone', 'Dogs of Europe' and 'Shelter Our Sky' were all composed and performed for Belarus Free Theatre's opus DOGS OF EUROPE, which is opening for another run in Paris this December. Of these, 'Gone' has become a protest song in Belarus about the tyrannical regime. Tracks 'Beat Up' and 'Broken' were produced earlier for their immersive multi-award-winning (Edinburgh Fringe, Amnesty International…) guerrilla-folk-opera COUNTING SHEEP which has had successful runs in the US, UK and Germany. The opening track, 'You Shoot Me', is an in-your-face response to being invaded, a homage to those that defend rights and freedoms, after which follows 'Swallow', a heavy folk-trap anthem with screaming traditional Ukrainian vocals – a glitchy upside-down lullaby for your enemy.
Sounding out as a song for the state of emergency that reflects the current times in Ukraine, comes their single and video 'GIMME', whose opening bars and English lyrics are deceptively classic-sounding, belying the originality and strength of the swelling siren sounds and trance-like pleading voices to come, marrying plaintive violin, rhythmic finger-clicking and lullaby-like lyrics in Ukrainian. In 'GIMME', an urgency and acute poignancy are felt through exquisite vocals, inventive electronics and haunting poetry, closing with the clear, quieter yet oh-so-powerful "Gimme shelter / and a meal / Gimme love and / Let me heal". In those final lines are expressed both an undeniable humility and a recognition of the trauma of war. Mark Marczyk speaks of the song carrying a burden: "The burden is peace and the song is about all that you carry and how we must ensure it survives, and how desperate and manic that can be at times". 'GIMME' is being released on 21st October, a day before Balaklava Blues' performance at WOMEX 2022 in Lisbon. They have just performed in Ukraine (both with fighters and in city venues) and in Poland.
---
Balaklava Blues are Mark and Marichka Marczyk.
Duo already burgeoning creativity came together when they met during the fervour and bloodshed of the February 2014 "Revolution of Dignity" in Kyiv. Their first dates were on burning barricades singing requiems for the first boys shot and killed at the hands of riot cops. Together with millions of Ukrainians, their efforts were successful, but at a high cost – lives lost, Crimea annexed, and now full-blown invasion. Since then, they have dedicated their creative energies to telling the stories of their home country to the world, a world suddenly today, so thirsty to learn and to listen.
Balaklava Blues' music falls somewhere between staging a traditional song cycle and a full-blown multimedia techno show.
The duo fuses Ukrainian polyphony and other folk traditions with EDM, trap, dubstep and more, as a launchpad to explore the seemingly never-ending blues that have long emanated from the Ukrainian steppe. They are also the leaders of the mighty Lemon Bucket Orkestra – Canada's notorious 12-piece balkan-party-punk-massive band. The "Balaklava" of their name refers to one of the symbols of the EuroMaidan Revolution, the mask worn by some of the protesters. "Balaclavas are meant to conceal the face, but they actually emphasize the eyes — the "windows of the soul."
Mark Marczyk and NMR (photo: Zahra Saleki)