Punku is a new project founded by Sylvia Falcón and Grimaldo del Solar (Novalima). Their music mixes Andean traditional music with ancestral instruments and modern genres including electronic music and rock.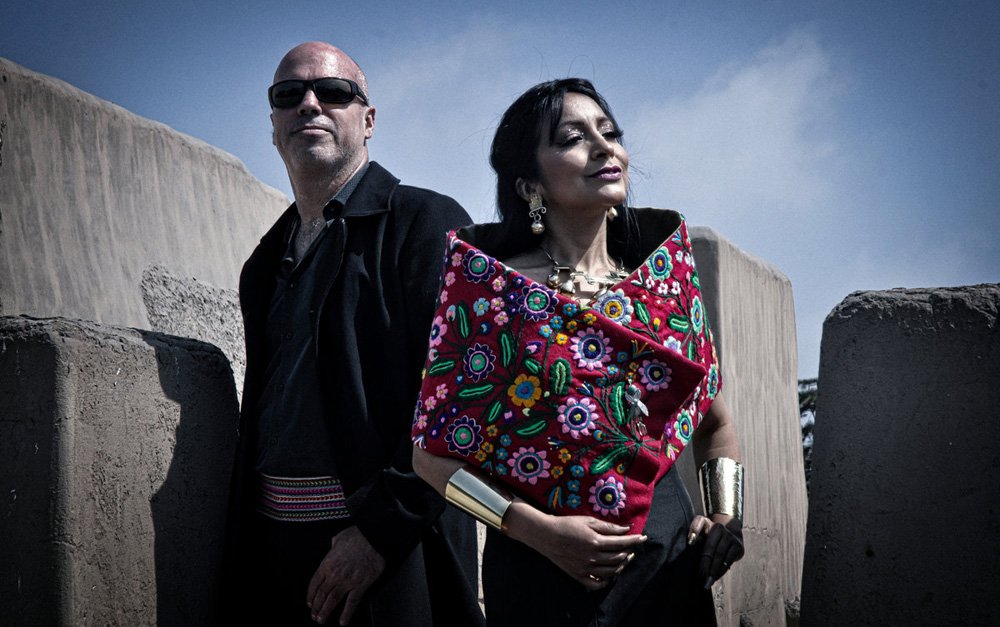 ---
Sylvia Falcón is an innovative singer who brings a wealth of talent and history to the duo. Her music has travelled from the traditional songs of the Peruvian Andes, through the mestizo folk melodies and the Andean coloratura repertoire that made Yma Sumac (whose life centennial will be celebrated in 2022) well known around the globe. Grimaldo del Solar is a Lima born producer and musician known for exploring traditional Peruvian music through an electronic music lens with his group Novalima; a collective that fuses traditional Afro Peruvian music with DJ culture. Grimaldo was experimenting with new Quechua rhythms with Novalima and found Sylvia Falcón on YouTube with her amazing Andean lyrical style and invited her to collaborate on the single "Chusay." After working together at several concerts with Novalima, Grimaldo and Sylvia wanted to join forces to continue a new sound they were developing and Punku was born.
The name Punku means "door" "access" or "portal."
For the Inca's, the Punkus were doors or portals to communicate with their "gods" (mamapacha, mother earth; sun; apus mountains) and their ancestors. The duo elaborates, "It was not only a physical door, but also a way to communicate with other dimensions and perceptions. For us, the music that we create in Punku is a door to connect with nature and our ancestors' knowledge of nature."

The Punku project released their infectious first single "Ancestral" in February, which evokes a ceremony to connect with the past with the teachings of Peruvian ancestors. Featured on the track is chamán Rawa Muñoz singing an Icaro, a magical and sacred chant used in traditional Peruvian Amazonian medicinal ceremonies with Ayahuasca. The chants talk about the teachings left by his ancestors and how all this knowledge is being lost in modern Peruvian society and forgetting about indigenous communities. As a bonus, "Ancestral" got a driving remix from Novalima, keeping Sylvia's hypnotic vocals over dubbed-out basslines and compelling rhythms. The second single "Tutamanta" (which means darkness/dawn in Quechua) continues Punku's sonic mysticism. The lyric is a musicalization of a Quechua poem called "Pachapa Warmi Churin" (Daughter of Time) by Nora Alarcón, an organic farmer, journalist, and composer who dedicated her life to the defense of Andean intangible cultural heritage. The lyric evokes the story of a woman that finds inspiration in nature to create (in this case writing) and help her find inner peace. The song will also have a remix from Bay Area duo Bang Data.
"Ch'usay" (Punku Remix) is a new reggae take on a song originally released on Novalima's 2018 album of the same name and was the kick start to the new project Punku. It includes a collaboration by one of the founders of the Quechua Rap movement, Liberato Kani. The result is a refreshing take on an already classic song. "Chuncho" is a modern take on a song by Peruvian composer Moises Vivanco which he wrote for his wife Yma Sumac. Chunchos are the ancestral guardians of the Amazon jungle and this song conjures the sounds of the deep jungle where Sylvia shows her vast vocal range by recreating animal sounds. "Pukllay" represents the folkloric festivals found in the small towns in the Andes. The song was written in collaboration with Ayacucho multi-instrumentalist and composer Chano Diaz Limaco, who plays the charango (Andean small guitar), panpipes, and Andean flutes.

"Kuntar Hina" is based on the traditional song "El Condor Pasa" written by Daniel Albia Robles, and made popular by Simon and Garfunkel. Punku's take includes a collaboration with Pepe Cespedes on piano, Horacio Camargo on panpipes and Andean flutes, alongside Sylvia's haunting vocals which once again shows her vast 4 octave vocal range. Then we move to "Arpa" based on a hypnotic Andean harp loop over a dubby sax ensemble combined with vocals by Sylvia and guest singer Sara Vignolo Huertas (Sara Van). "Takiy" floats with Gisella Giuffra on drums along with the talented Andean guitarist Ricardo Villanueva. The album finishes with "Simi," which means "language" in Quechua and is an acapella ceremony lead by Sylvia's amazing melodies on top of a melodic rhythm based on a sample of her own vocals. It's minimalist and dark electronic arrangements set the mood for a stunning closing track.

Sylvia and Grimaldo conclude "Since Punku was recorded during the pandemic, it also represents the process of how music can move us forward in life even though someone may be grieving the loss of a loved one." They add, "It is also important that we take this new Andean music around the world so people can learn about ancient Andean culture and its connection and respect to nature."
Six Degrees and NMR (photo: press)