It is this mysterious mix that makes Bukahara unique. Psychedelic swing, Arabic reggae, Balkan jazz, or even folk hip hop, are funny sounding genres that are not necessarily contradictions. This is proven with a lot of acoustic sophistication and great love by four thoroughbred musicians: Bukahara.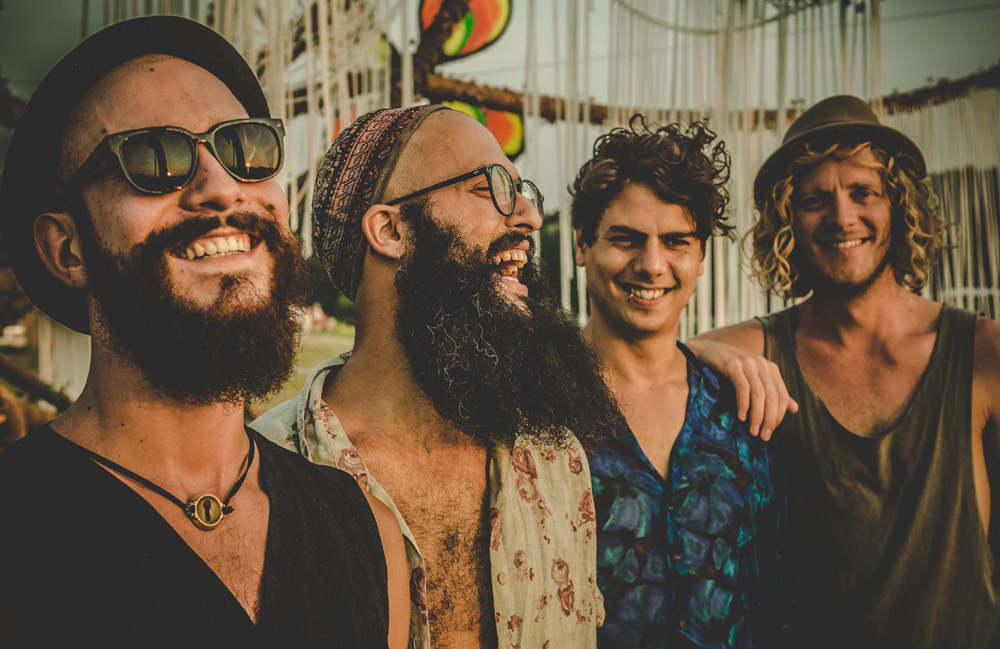 These multi-instrumentalists easily manage a balancing act between lightness and enthusiastic devotion. For observers of postmodern developments not only in music it is unavoidable and obvious that music is more and more nourished by digital signals. Bukahara opposes this trend and stays authentic and analogue – in favor of the audience.
Another factor which contributes to the uniqueness and the paradigmatic nature of Bukahara is due to its various cultural identities.Although their individual cultural origins partly could not be more different and contradictory, the Bukahara guys do proof indeed that it is still possible to create something hardly more peaceful – namely music.Thus they not only connect themselves but also an audience that appreciates a constructive image of culture and associated opportunities.
Thus they not only connect to itself, but also an audience that appreciates a constructive image of culture and the associated opportunities. Whether barefoot at one of their festivals or spontaneously at a house party or breathless in the spotlight – their lives are the stage.
The fifth album "Canaries in a Coalmine" is engaging and authentic.
The new recordings were taken under the watchful eye of the experienced producer Tilman Hopf, who in the past has collaborated with Dendeman, José Gonzales and Astrid North. Thanks to him the new songs are much clearer. You can hear the sounds of wind instruments and violins in them. Bukahara musicians have never allowed anyone to enter the recording process of their work. But Tilman Hopf directed them to experiment with sound and became the fifth member of the band.
Social debate about fear, populism and hope.
In addition to the change in sound and production conditions, Bukahara also has new text messages. Halle, Hanau and xenophobia did not leave the musicians with their dazzling biographies without a trace. As the band's main lyricist, Soufian Zoghlami confronts his own fears and develops counter strategies. "Afraid No More" is committed to anxiety and at the same time asks who benefits from these fears in our society. Above all the right-wing populists and demagogues, who still stir up our fears. "Vulture and the Little Boy" and "Under the Sea" also take us to current places of horror and fear. But then Zoghlami also combines fear with a defiant call for resistance. "Afraid No More" is the best example of this attitude.
"Canaries in a Coalmine" admirably carries the threat along with formulating a strong sense of belonging. The song that already has this in the title of the album is "We Are Still Here!" The eleven songs are dedicated, emotional and reflective, but never dogmatic. And in songs like "Baum", Laterna Magica "and" Wolken "the view is simply blue, full of hope, confidence and happiness. Soufian Zoghlami has also moved closer to himself with these songs and is now singing some songs in German.
Bird metaphor
In the past, canaries were abandoned in coal pits in cages – as a warning if the oxygen should become scarce. The fading song of the birds warned workers of the danger to their own lives. Bukahara took the picture of the "Canaries in a Coalmine" to find a picture for our situation. Are we out of air? Are we being marginalized and sacrificed as decoys and stupid poultry? That is why the musicians from Bukahara have contrasted this picture with a very high contrast and set the cover for the album title. A colorful peacock to tell us looks here, we don't have to be caged and marginalized in a society. We can show self-confidence and pride, and be aware of our size as a group.
NMR (photo: press Bukahara)