Fat Freddy's Drop - Special Edition Part 1 (The Drop, 2019)
Fat Freddy's Drop has been one of New Zealand's largest export music scene for several years.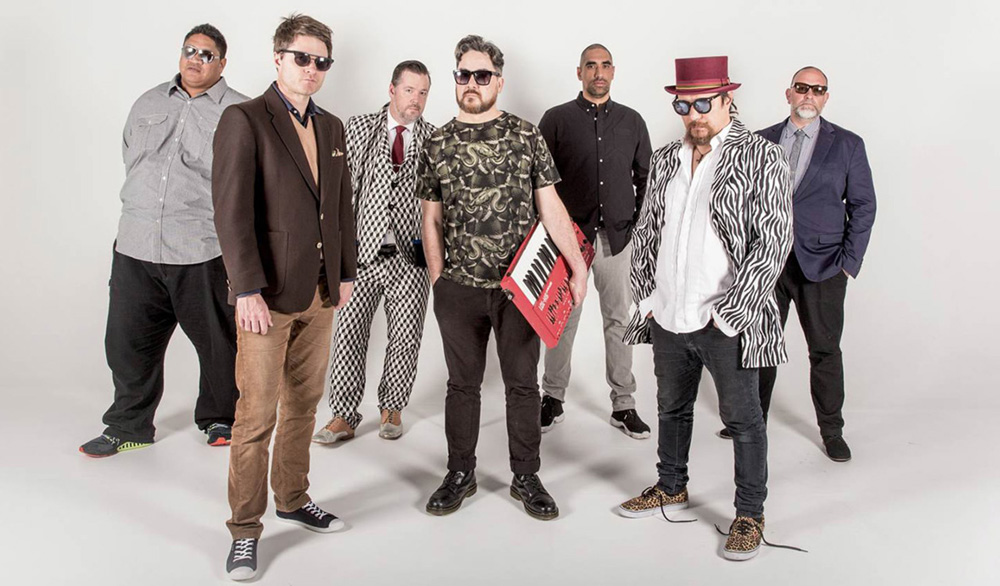 The main characters of Fat Freddy's Drop are DJ Fitchie and singer Soulcrooner Joe Dukie. The band usually presents itself in a seven-member line-up. Their debut "Based On A True Story" from 2005 became the most successful album in New Zealand's music history. He was several times platinum and honored at home with the "Album Of The Year" award. The band is also known in Europe and often performs mainly in the UK. In 2018, she sold out the well-known O2 Academy Brixton twice in a row.
Throw your hands in the air!! 'Special Edition Part 1' digi drop is real.
Six sonic tracks, stress-tested concert detonations "Special Edition", "Kamo Kamo" & "OneFourteen" alongside studio bullets "Raleigh Twenty" "Trickle Down" & "Six-Eight Instrumental". Supremely crafted at Freddy's own Bays studio in hometown Wellington, the deep musical and rich vocal layers reflect Freddy's inspiration from the black music lexicon and is a response to the crowd energy at our live shows worldwide.
"Special Edition Part 1" is the first edition of a long envisaged double album with seperate chapters.
The next journey, Part 2 will be released in 2020 after stringent road-testing with audiences over 35 shows across New Zealand, UK and Europe celebrating the release of the Part 1. These upcoming live performances will allow Freddys to fully explore new song-writing technology and give rise to a slamming Part 2.
Of the six new offerings, Raleigh Twenty, Trickle Down and Six-Eight Instrumental came from those sessions, whilst Special Edition, Kamo Kamo, and OneFourteen were firm faves in their worldwide touring sets.
The vanguard single Kamo Kamo is already out, whetting appetites, especially for us down here in their hometown of Welly, as we all wait with heavy anticipation for their upcoming Lower Hutt gig. That show will be part of a ten show rollout that spans places from the deep south to the heady north. Google Kamo Kamo and you'll be reminded of the small "grenade shaped" marrow or squash traditionally used in hangis and fry-ups. It sticks with the band's obsession with kai, and is the purest definition of the late-night roots reggae grill, thickened with Joe Taimara's trade mark buttery vocals, and super funky horn punctuations.
High up on my repeat playlist is the Detroit House-influenced Trickle Down. I especially loved the locomotive rhythms laid down by Chris Faiumu (aka DJ Fitchie). Still rocking his trusty MPC he engineers this little engine through wave after wave of sophisticated groovyness. Layered over it all, Taimara (aka Joe Dukie) brings us desperate conscious lyrics that repeat a cry from political situation: "Getting short on patience, getting high on hope, getting short of patience siting here waiting for the rain to fall".
Raleigh Twenty is a tricky little number. It starts off with a nifty little 1980's computer game jingle, then spreads out into the blissful jazz-pop of 70's heroes Steely Dan. However, I'm pretty sure Messrs Becker and Fagan never made songs about dropping off the missus and going for a cruise on a vintage bicycle while she's at work slaving away over a hot computer.
Six Eight Instrumental reminds me of those blissed out trance-techs that bands like Orbital used to make.
The album cover artwork is by Wellington artist Otis Chamberlain, a continuing evolution from his creation for the its first single "Trickle Down", a work that's morphed from digital cover art to the band's massive summer tour backdrop.
NMR (foto: press Fat Freddy's Drop)