Kronos is very excited to announce that the Norwegian record label Kirkelig Kulturverksted (KKV), in association with New York-based Valley Entertainment.
Placeless is the first collaboration between Kronos and Iranian singers Mahsa and Marjan Vahdat. Recorded in Oslo's Kulturkirken Jakob in November 2018, the album features 14 songs composed by Mahsa Vahdat to classical poems by Hafez and Rumi and the works of contemporary Iranian poets Forough Farrokhzad, Mohammad Ibrahim Jafari and Vahdat's husband Atabak Elyasi. Composers Sahba Aminikia, Aftab Darvishi, Jacob Garchik and Elyasi arranged the songs for string quartet.
Despite spanning a period of 800 years, even the oldest poems are still surprisingly relevant, showing how the human heart is always the same, regardless of time, place and culture. The album title Placeless references a well-known poem by Rumi from the 13th century:
I am not from the East, nor from the West
I am not from the land, nor from the sea
I am not from the world, not from beyond
My place is placelessness. My trace is tracelessness.
"This recording is a milestone for us," says Mahsa Vahdat. "The wonderful musicians in Kronos Quartet have given our music new dimensions. Our lives are constantly changing in relation to time and place. Our home and where we belong – this is all over the globe. By performing poems from Persia's classical era, we have been coming closer and closer to finding an organic connection between what we express in our art and the way we live."
Commenting on the new release, Kronos' artistic director, founder and violinist David Harrington states, "We're always trying to learn as much as we can, and now, recording with Mahsa and Marjan, we sometimes are able to make sounds we have never before heard from our instruments."
The Kronos has a 45-year career behind it – "the Kronos life journey [has become] a relentless endeavor to open up the world's music for everyone. If the conventional assemblage of two violins, viola and cello can be expanded by transcribing sounds from Middle Eastern instruments or Asian tunings, listeners will develop a much richer musical perspective. There are no border fences between various forms of music" (Metro Silicon Valley). For 25 years, Mahsa and Marjan Vahdat have had an innovative attitude in their quest to give Persian poetry and music new expressions in collaboration with a number of musicians from many countries, from both their own region and other parts of the world.
Kronos and Mahsa Vahdat were first introduced by Sahba Aminikia, when he served as the artist-in-residence of Kronos Festival 2017. Kronos and Mahsa Vahdat first performed together at the SFJAZZ Center in San Francisco on 2 February 2017, as part of that annual festival produced by the nonprofit Kronos Performing Arts Association. Since then, Kronos and Mahsa Vahdat performed an encore set at Kronos Festival 2018 and have been presented by the City of Geneva's outdoor concert series Musiques en été, Oslo World Music Festival (with Marjan Vahdat), University of California, Santa Barbara, Arts & Lectures, and Carnegie Hall.
Kronos and Mahsa Vahdat will perform concerts presented by Washington Performing Arts on 2 March in Washington D.C.; Narodowe Forum Muzyki and Jazztopad Festival on 9 March in Wrocław, Poland; and Green Music Center on 9 May in Sonoma, California.
Placeless is produced by KKV's founder Erik Hillestad. He also produced Lullabies from the Axis of Evil (2004), which featured Mahsa and Marjan Vahdat. That album was the start of a long and productive collaboration, which has led to Hillestad's producing all subsequent releases by the Iranian sisters.
To learn more about Placeless, watch this short news feature produced by Norwegian public television NRK. The story about Placeless begins at 8:15 (marked with a dot on the slider). Reporting is in Norwegian, but the interviews are in English.
For translation help: Watch the video with subtitles in a Chrome browser. Activate the "Translate this page?" function in the search bar to the right. This will translate the subtitles in real time.
Erik Hillestad, founder and general manager of Kirkelig Kulturverksted, Mahsa Vahdat, Kronos Quartet's David Harrington, and Marjan Vahdat in Oslo.
About Kronos Quartet
For 45 years, San Francisco's Kronos Quartet – David Harrington (violin), John Sherba (violin), Hank Dutt (viola), and Sunny Yang (cello) – has combined a spirit of fearless exploration with a commitment to continually reimagine the string quartet experience. In the process, Kronos has become one of the world's most celebrated and influential ensembles, performing thousands of concerts, releasing more than 60 recordings, collaborating with an eclectic mix of composers and performers, and commissioning over 1,000 works and arrangements for string quartet. They have won over 40 awards, including the prestigious Polar Music and Avery Fisher Prizes and, most recently, the WOMEX Artist Award (the first US-based musicians to ever do so). The nonprofit Kronos Performing Arts Association manages all aspects of Kronos' work, including the commissioning of new works, concert tours and home season performances, education programs and a self-produced Kronos Festival. In 2015, Kronos launched Fifty for the Future: The Kronos Learning Repertoire, an education and legacy project that is commissioning—and distributing for free—the first learning library of contemporary repertoire for string quartet.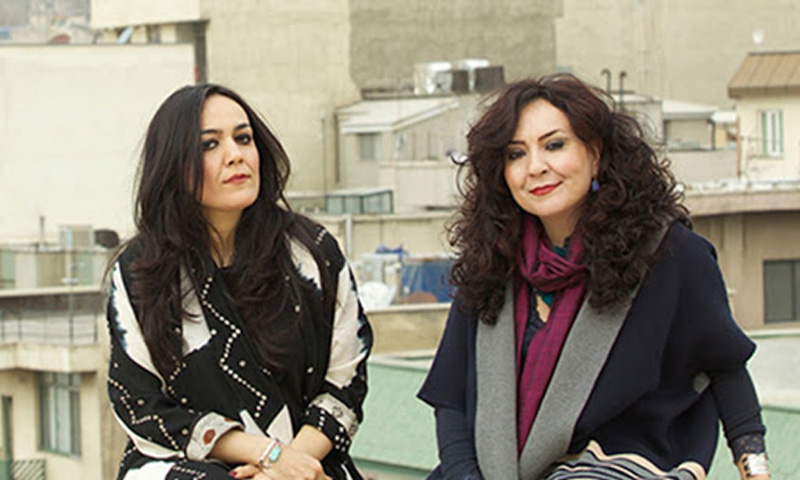 About Mahsa Vahdat
Mahsa Vahdat is one of the most important performers of Persian vocal music in the world today. She has given a deeper knowledge about Iranian poetry and music to large audiences all over the world, and she has also been a teacher in Persian vocal art for many years. Mahsa has developed her personal style based on the Persian vocal tradition of classical and regional folk music, but with a contemporary expression. Mahsa was born 1973 in Tehran. Since 1995 she has performed in concerts and festivals in Asia, Europe, America, Oceania and Africa together with musicians from Iran, Europe and the US. Without being visible in their own society because of restrictions of female solo voice after 1979 in Iran, Mahsa and her sister Marjan have continuous contact with a large audience, both in Iran and abroad. Mahsa has released 11 albums, four of them together with her sister. Since 2007 Mahsa has been an ambassador of Freemuse Organization. In 2010, she was granted the Freemuse Award. Her albums have received many awards, among them The German Records Critic Award (2016) and Best Album by Songlines (2015).
About Marjan Vahdat
Marjan Vahdat is together with her sister among the most important performers of Persian vocal music in the world today. Marjan has developed her personal style based on the Persian vocal tradition of classical and folk music, but with a contemporary expression, and with a special interest in the styles from rural regions in Iran. She was born 1976 in Tehran. She has been taking part in many international festivals and concerts in Europe, Asia Africa and Oceania Australia. She has worked with many composers in Iran, Europe and the US. Marjan has for many years also collaborated with the Teatr Zar and the Grotowski Institute from Wroclaw in Poland in several theater pieces. Marjan has released two solo albums and four records together with her sister. The two sisters have both similar and different characteristic timber in their voices. With devoted passion they take Persian poetry and music to new heights and new spaces. Together they won the Independent Music Award in the US (2013).
Kirkelig Kulturverksted + NMR (photo: press)