The Saxophones – Songs of The Saxophones (Full Time Hobby, 2018)
Retro-pop duo the Saxophones make gossamer chamber pop that combines elements of '50s exotica, West Coast folk, smooth jazz, and bedroom pop. Formed in the California Bay Area in the mid-2000s, they released their first music in 2016, and made their full-length debut with Songs of the Saxophones via Full Time Hobby in 2018.
Based in Oakland, the Saxophones are married couple Alexi Erenkov (vocals, guitar, synthesizer, woodwinds) and Alison Alderdice (drums, vocals). The project began as a solo effort by Erenkov, who started singing and learning guitar after becoming disenchanted with formal jazz study at university. Following several years that included writing songs, honing the sound, and expanding personnel, Erenkov, Alderdice, and friend Richard Laws (bass, synthesizer, vibraphone) recorded the EP If You're on the Water with Radiation City's Cameron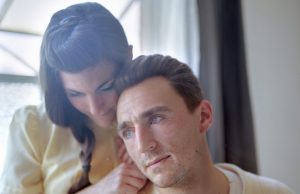 Spies in Portland, Oregon.
Originally self-released digitally and on lathe-cut vinyl in 2016, Internet buzz led to a deal with Full Time Hobby, which reissued the EP a year later. The Saxophones' official debut single, "Aloha," followed early in 2018, backed with a cover of the David Lynch/Angelo Badalamenti classic "Just You" from Twin Peaks. Recorded once again with Spies and Laws, their full-length debut, Songs of the Saxophones, arrived in 2018.
NMR