ALAN STIVELL – HUMAN / KELT (WORLD VILLAGE, 2018)
The king of the Celtic harp, Alan Stivell has cast a mythic shadow on Breton music and the folk revival since he burst on to the folk-rock scene in the early 60s. His new album is the first of three that will look back over his long career, and with the help of guests ranging from Fatoumata Diawara, Dan Ar Braz and Carlos Núñez to Yann Tiersen, Bob Geldof, Murray Head and Andrea Corr, reinterpret and revisit his greatest work.
The track 'Pourquoi es-tu venu si tard' refers right back to the first track of his first record in 1961 'Telenn Geltiek (Harpe Celtique)' and has been updated here in the presence of the great composer and musician Yann Tiersen (most famous for his song-track to the hit movie Amélie).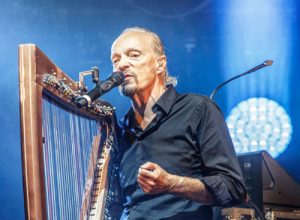 "Yann Tiersen, on the piano (one of the – ! –layers of icing on the musical cake), provides a different form of modernity and topicality but above all, a form of sensitivity which allows the heart to speak directly to the soul, even to the universal Soul. The fact I just had to call for him to join us and honour this ideal guest list was a delight!" says Alan.
A sign of the respect and affection with which Alan is held in his native France, and internationally.
The song carries all the mystery and atmosphere that have come to define Alan Stivell's music, highlighting his beautiful, delicate harp playing and Yann's empathetic piano. A fantastic introduction to one of the folk events of the year.
Sarah Folger + NMR (photo: Laura McCullagh)