Che Sudaka is a band of the people and for the people, no pretense. Her twenty-year career proves it.
---
Che Sudaka was born in the street music scene of Barcelona and unites musicians from Argentina and Colombia. Strictly devoted to the social counterculture their lyrics are about the problems of immigration, social injustice and war. Che Sudaka's multicultural attitude is expressed in Spanish, Portuguese, English and Italian songs, that combine this explosive power of Punk and Reggae which makes the band so unique. from Reggae, Ragga, Rumba to Drum&Bass and Argentinean folk music.
Che Sudaka's musical evolution was shaped not least by the friendship with Manu Chao and Radio Bemba. For their second album "Alerta Bihotza" (2005) bass player Gambeat from Manu Chao's band was responsible not only for the harder and more direct sound, but also for the elaboration of their extremely energetic live performances.
Their third album "Mirando el mundo al revés" (2007) is a return to Che Sudakas roots, the street music. Amparo Sanchez ( Amparanoia )
Che Sudaka present this album Europe wide at first (more than 50 concerts in eight countries)
After almost 600 concerts in a relatively short history, Che Sudaka are one of the most important and most fascinating bands born in Barcelona. They have fans all over the world, were awarded CD of the week at Funkhaus Europa, the Swedish national television featured them in a documentary about the music scene in Barcelona alongside names like Ojos de Brujo In 2009 Che Sudaka will be ready again to fight for a more equitable world with Latin-Punk and Ragga-Reggae.
Live expect a full volley of racing drums, fat guitars, pushing basslines and synthi-samples; many-voiced singings, influences of Rumba and Cumbia and the freaky live show of the two singing brothers Leo and Kacha.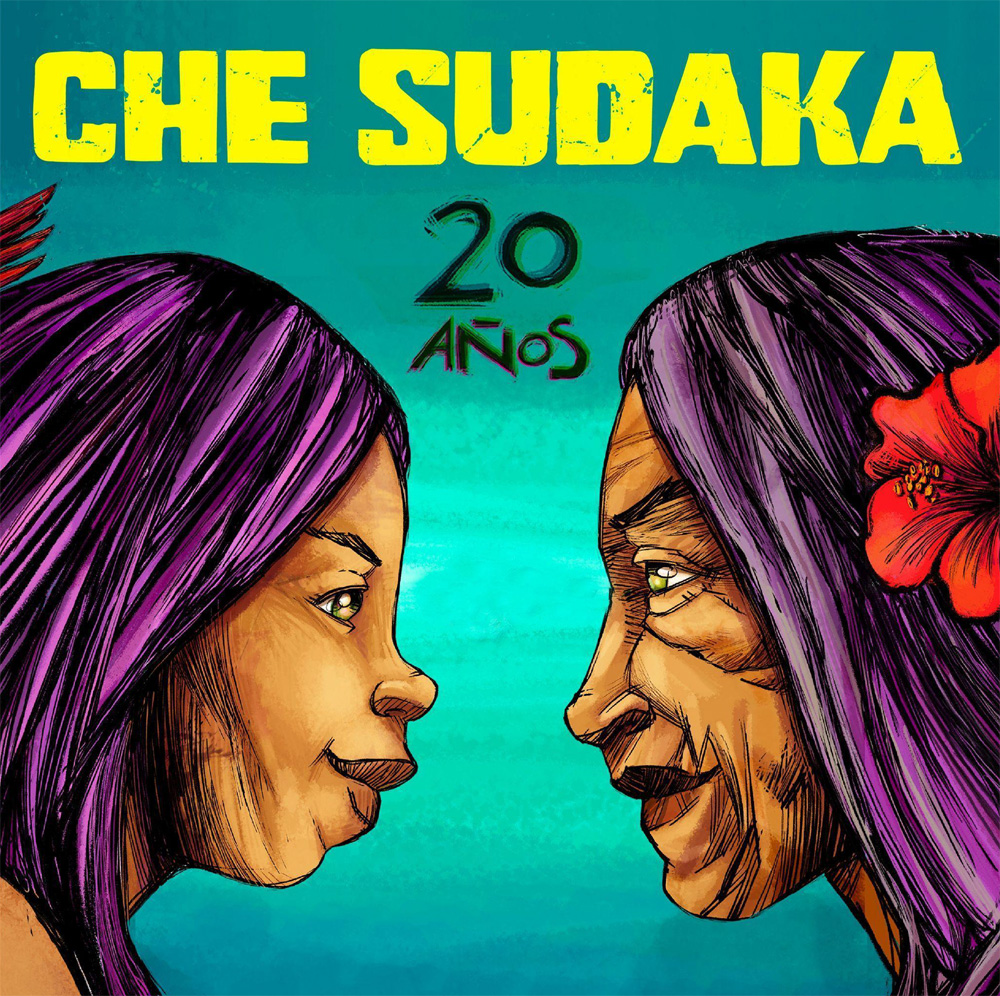 20 years without borders
As a part of their 20th anniversary celebration, the Barcelona band of Argentine and Colombian origin presents its 10th album.
With collaborations from great artists and friends like Dubioza Kolektiv (Bosnia), La Pegatina (Spain), Locomondo (Greece), Mal Élevé (Germany), Piero (Argentina), Marta Gómez (Colombia), Los Rabanes (Panamá), Sergio Rotman (Argentina), Desorden Público (Venezuela), Barrio Calavera (Perú), Doctor Krápula (Colombia), and Las Manos de Filippi (Argentina), among others.
Produced by "Moska" Lorenzo from Los Auténticos Decadentes and Sergio Morales "Pakandé" (the band 's accordionist and producer). This new album joins the previous 9, cataloged by critics as a true festival of styles, cultures and languages, where people dance to the most incendiary cumbia, ska merengue, Latin American folklore and the most irreverent punk always accompanied by sincere and conscious lyrics.
The band is currently doing an extensive tour throughout Europe under the name "20 years without borders", a tour that began with 2 full houses in Madrid and Barcelona and will continue throughout 2022 and until next winter, with a marathon of 70 dates in France, the Czech Republic, Switzerland, Germany, Hungary, Austria and the Netherlands, among others.
Time and people's affection have made Che Sudaka a living legend. Without a doubt it is a cult band.
NMR (photo: press Che Sudaka)