With the summer solstice having just passed, the longest days of the year are ideal for squeezing in a few more reggae tunes. Compiling choice selections by discerning radio hosts from around the globe, here's the latest issue of Global Reggae Charts magazine!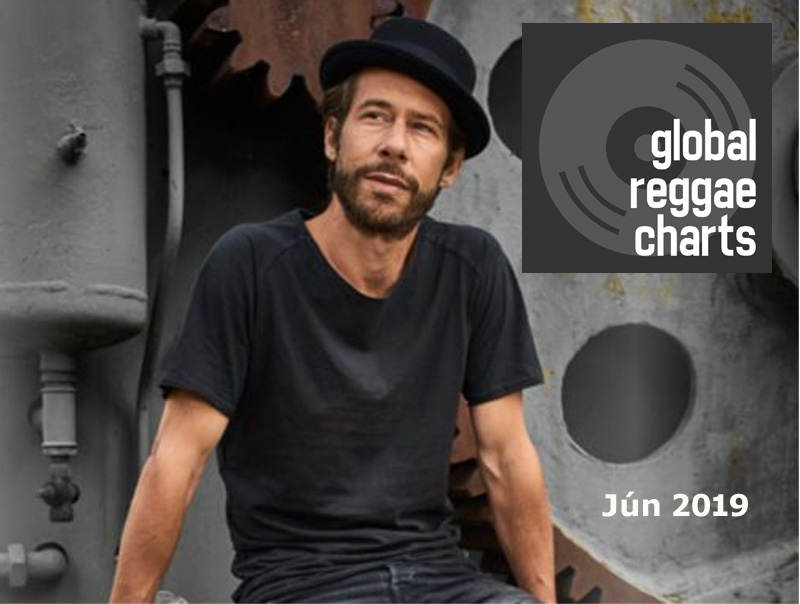 Jahcoustix, by virtue of his album Reunion, appears on the cover. The eighth album from the German artist – known for blending reggae with acoustic music – currently holds the third spot on the charts.
Otherwise, Koffee's Rapture EP maintains its grip on the top spot, while #2 is a nice debut by Inna De Yard. Sly and Robbie are at #4, for The Final Battle with Roots Radics, with Beres Hammond wrapping up the initial five albums. Jah9's Feelings continues to shine at #7, just ahead of the veteran Lt Stitchie's Masterclass. Previous cover artist King Mas rebounds a bit to #11, and two spots behind there's Shy FX with a pleasant surprise: Raggamuffin SoundTape. Noteworthy for sure: Alborosie's Unbreakable: Alborosie Meets The Wailers United has nearly done the distance, still hanging on at #18 after eleven months! Finally, there are debuts from Sizzla and Akae Beka tying for twentieth – it will be interesting to see how far those rise in the coming months.
Practically expected, Koffee is atop the single charts as well for "Toast," while "Throne" is third. In between is "Guess Who" – Tarrus Riley; Randy Valentine's collab with Eesah and Runkus, "Blessed," enters at #4, followed by Jah9 for "Heaven (Ready Fi Di Feeling)." Further down, there's Hempress Sativa at #7, and then Alborosie & Chronixx with "Contradiction" at #8, celebrating a full year on the charts. Much of the remaining tunes are fresh work from established artists, including the latest from Protoje, Skip Marley, Jah Cure, Buju Banton, and Jesse Royal, as well as legends Keith and Tex with their latest "Global Politics."
Plenty of changes on the riddim side, with nothing remaining from last month's charts. New riddims are the General A General Riddim (Frankie) sits at #1, the Lioness Order Riddim (Oneness) is at #2, and the Tenement Yard 2019 Riddim (Crossfire Sound) appears at #5. The Sweep It Out Riddim (149) and the Lion Pride Riddim: Reloaded (Upsetta) both return to the charts, at #3 and #4 respectively.
Global Reggae Charts + NMR
Listen to the program: