Roberto Fonseca is a Cuban pianist, vocalist, multi-instrumentalist, composer, producer and bandleader.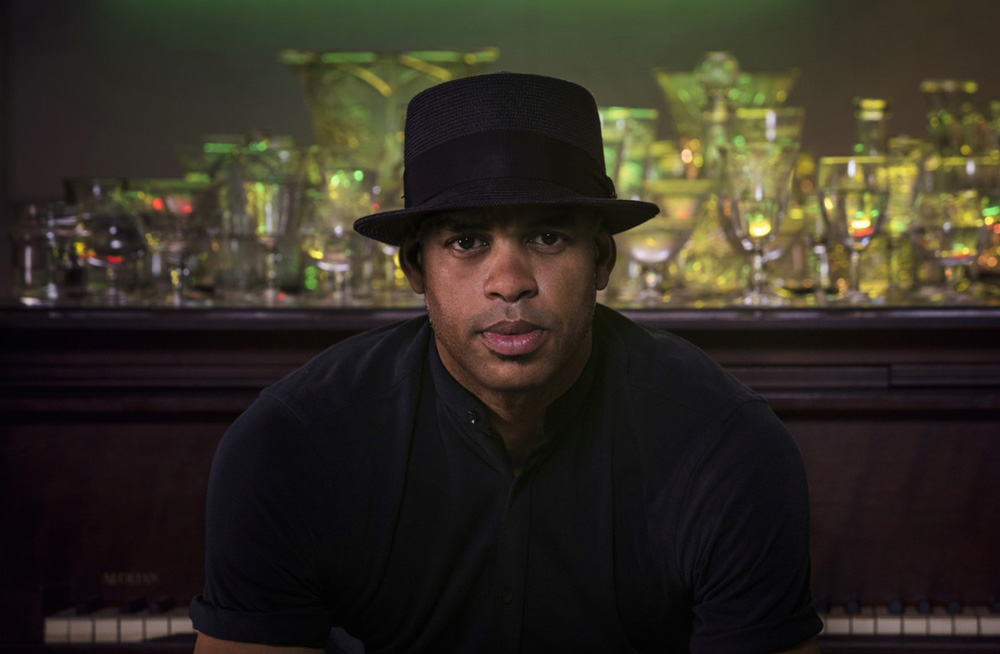 Havana-born and based, he has released nine solo albums, collaborated across genres, been nominated for a Grammy Award and toured the world several times over. Along the way he has achieved the aim with which he began his professional career in the early 1990s: "Wherever people are, I want them to hear my music and say, 'This is Roberto Fonseca'."
An artist of prowess and ideas, with a questing jazz sensibility and deep roots in the Afro-Cuban tradition, Fonseca continues to astound. 'The most exciting pianist in Cuba," avowed Britain's Guardian newspaper. *Does something new with the old, without ever denying its origins, and opens himself to the world," insisted France's Le Figaro. "Makes all possibilities seem possible, and the moment feel perfect, intensely true," declared the New York Times.
Born in 1975, Fonseca grew up in San Miguel del Padrón in the unassuming Barrio Obrero on the southeastern outskirts of Havana.
His father, Roberto Fonseca Senior, played the drums. His mother, Mercedes Cortes Alfaro, was a dancer at the legendary Tropicana Club and is renowned within Cuba as a singer of boleros. His two elder half-brothers are a drummer and a percussionist; the young Roberto was four-years-old when he started playing drums – his first professional gig was in a Beatles cover band – before taking up piano aged eight. He has been composing his own music since adolescence.
His technique is as percussive and muscular as it is agile and delicate. His tastes were always eclectic: hard rock, for its energy and basslines. American jazz, taught at school, consumed in between, with Herbie Hancock, Keith Jarrett and Oscar Peterson on rotation. Funk and soul. Music made in Africa and Brazil. Reggaeton, electronica, hip-hop. Classical music: "Mozart, Chopin, Beethoven, Rachmaninov, Scriabin, Grieg, Bartok," says Fonseca. "Every day, still."
And always, ¡siempre!, the music of Cuba – that vibrant, tenacious, creatively fecund Caribbean island. Fonseca's deep AfroCuban roots underpin a sound that builds bridges between ancient and modern and takes Cuban music – all music – forward, embracing challenges, breaking chains, showing what can be. Inspiring young musicians in Cuba, for whom Fonseca's cross-genre adventures and international success are a benchmark.
Fonseca was 15-years-old when he made his live solo debut at the Jazz Plaza Festival in Havana.
He went on to graduate with a Masters degree in Composition from the prestigious Institute Superior del Arte, determined to focus outward while staying true to his AfroCuban core. Aged 21, he played piano accompaniment to an Italian singer on a tour of Italy. Back in Cuba he joined Temperamento, the progressive jazz outfit led by reedsman Javier Zalba, collaborating with the group for some 15 years and recording the likes of 1998's En El Comienzo, which won Best Jazz Album at industry awards Cubadisco.
In 1999 Fonseca released his solo debut, Tiene Que Ver. Two albums swiftly followed: 2000's No Limit: AfroCuban Jazz, a cult classic he recorded in Japan, and Elengó (2001), which mixed AfroCuban rhythms with hip-hop and drum'n'bass. He composed the soundtrack for Black, a film by French director P. Maraval, and produced an album for hip-hop act Obsesión. The international spotlight shone bright in 2001 when Fonseca joined that famed ensemble of elderly maestros, the Buena Vista Social Club, taking over the piano chair from the ailing Ruben Gonzalez (1919 – 2003) then touring the globe with singer Ibrahim Ferrer (1927 – 2005) then with BVSC alumni including evergreen diva Omara Portuondo.
After co-producing and playing on Ferrer's posthumously released Mi Sueño: A Bolero Songbook (2006), Fonseca unleashed his landmark 2007 jazz-roots solo album Zamazu. Hailed as sensual and modern, as strongly spiritual and crazily trailblazing, Zamazu's audacious vision involved 20 guest collaborators and augured a glittering future. He followed through with 2009's Akokan, an album that saw his quartet joined by Cape Verdean vocalist Maya Andrade and American guitarist Raul Midon. 2010's Live in Marciac was recorded before 5,0000 fans at the eponymous festival town in southwest France.
Tastemakers eyed him, recognising the potential in his playing smarts and bright ideas, his intrinsic Cubanness and ineffable sense of cool. Iconic French designer Agnes B began kitting him out in sharp suits and his trademark leather Byblos hats in 2006 ("We share ideas, concepts"). British-based impresario Gilles Peterson asked him to arrange and co-produce the 2010 Havana Cultura project: a double album showcasing the reggaeton, hip-hop, Afro-jazz and more of Cuba's new musical generation. Fonseca's music was sought after for upmarket advertising campaigns. His edgy, leftfield visual sense is exemplified in his videos and album covers, further establishing Fonseca as the consummate creative.
In 2012 came his Grammy-nominated masterwork Yo, a turbocharged album aided by 15 musicians from Cuba, Africa and the US, and a work that went even further in Fonseca's matching of tradition and experimentation.
Nowhere was this change in his compositional approach more obvious than on the brazen, compelling '7 Rayos', which fuses Cuban patterns with classical music, West African instrumentation, electronic music and rhythmic spoken word poetry.
"Writing the track '7 Rayos' was life-changing for me," says Fonseca. "I was almost afraid to something so crazy. But I mixed all these elements, created a bridge and loved the result. It was the start of a new Roberto Fonseca."
Guesting on Yo is another artist with her eyes on the horizon: the star Malian singer-songwriter and guitarist Fatoumata Diawara, with whom Fonseca embarked on an acclaimed live collaboration that played venues including London's Barbican and the Philharmonie de Paris. A live album, 2015's At Home, was also recorded at the Jazz in Marciac festival. "Working with Fatou open my mind about the possibilities of percussion and guitar," says Fonseca.
2016's ABUC ("***** Incandescent Cuban contrasts" – The Guardian) told the story of Cuban music past, present and future with a sprawling cast of over 30 guests. Two years in the making, as kaleidoscopic and multi-layered as Cuba itself ("My culture is so strong and varied that the possibilities are endless"), ABUC was released in the same year that Fonseca became Artistic Director of the Inaugural Jazz Plaza Festival in Santiago de Cuba – the sister event of the festival that welcomed his live solo debut 26 years previously.
Alongside the recording and collaborating, the practicing and composing, are Fonseca's headline live appearances.
When at home in Havana, for example, Fonseca and his musicians – who are similarly blessed with musical curiosity and a penchant for experimentation – have a twice-weekly residency at established jazz club Zorro y el Cuevo (Fox and the Crow). There they develop and explore new compositions, testing each other out with lightning fast rhythm changes or leaving room to build ideas, discover the music's purpose.
In this way Fonseca and his trio – drummer Raúl Herrera and longtime double bass player Yandy Martínez-Rodriguez – shaped many of the 12 original compositions on Fonseca's new album Yesun. Released on Wagram on 18 October 2019, and featuring guests including Grammy-winning saxophonist Joe Lovano, lauded French-Lebanese trumpeter Ibrahim Maalouf and rising star Cuban rapper Danae Suarez alongside retro-modern keyboards, electronic beats and samples and those earthy AfroCuban rhythms, Yesun is the album that Fonseca has always wanted to make.
Having proved himself exceptional (indeed, earlier in 2019 he was awarded the distinguished Ordre des Arts Letters from the French Ministry of Culture), Fonseca is free to take more risks, break new ground, take his music – and the music of Cuba – further. The future is his for the taking.
"My culture is strong and varied," says Fonseca with a smile. "There is so much life here, so much music. We are rich."
NMR (photo: press Roberto Fonseca)