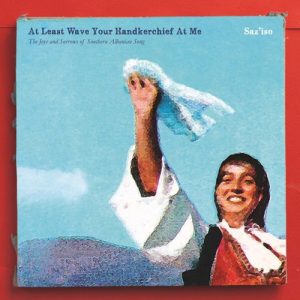 "Why not give yourself a break from the unending cavalcade of modern high-speed insanity, and rest up with this album of deep soul from Southern Albania." – Ry Cooder
Brazilian Samba, Bosnian Sevdah, New Orleans Jazz, Cuban son – and Albanian Saze! The turn of the last century saw mass migrations to the world's cities with rural people bringing their music with them, adapting their traditions to new circumstances and modern instruments. Of all these great musical forms, the mesmerizing arabesques, joyful dances and heart-breaking laments of Saze are among the least recorded, and they remain largely unknown outside Albania.
Glitterbeat is proud to announce the release of "At Least Wave Your Handkerchief At Me: The Joys and Sorrows of Southern Albanian Song" by Saz'iso, a group of virtuoso musicians and legendary singers assembled by veteran producer Joe Boyd (Pink Floyd, Nick Drake, Cubanismo, Songhai) and his co-producers, Edit Pula and Andrea Goertler, and recorded by Grammy-winning engineer Jerry Boys (Buena Vista Social Club, Ali Farka Touré, Orchestra Baobab).
"I had long been intrigued by Albanian music. In 1988, I saw a smuggled video of that year's Gjirokastër Folklore Festival, but good recordings were hard to find. When I finally went in 2014, I was captivated by the country and its mesmerizing music; the germ of a plan to make a record took hold." – Joe Boyd
The key that opened the Albanian door for Joe Boyd was a collaboration between ethnomusicologist/music producer Lucy Durán and Albanian artist Edit Pula in 2011 for a three-part series of broadcasts on Albanian music for BBC Radio 3's "World Routes" (http://www.bbc.co.uk/programmes/b016kdcj). In 2014, Joe joined Lucy, his old friend and collaborator, for a celebration in Albania. There he met Edit Pula and her friend Andrea Goertler, both passionate advocates of traditional music, and the idea for a recording project was born. Dream was transformed into reality by a Kickstarter campaign supported by friends and strangers, musicians and fans from around the world. The producers then assembled a group of star musicians, many of whom had been part of the World Routes recording.
"The best moment in my remarkable musical journey to Albania in 2011 for the BBC was my encounter with Saze. The gorgeous voice of Donika, so expressive, full of pathos and joy, moved me to tears instantly. Listening to this album takes me right back to the beautiful wild landscape of southern Albania and evokes its turbulent history." – Lucy Durán
Singers Donika Pecallari and Adrianna Thanou are from Përmet, one of the cradles of Saze. They were discovered as teenagers and both performed with Saze clarinet legend Laver Bariu, becoming stars at festivals and in competitions. Donika has an agile and powerful voice while Adrianna's is warm with subtle tones. Both left Albania during the turbulent 90's following the fall of the Communist government and found work and a new life in Athens. Donika was fiercely determined to stay connected to her home country's music scene, even hiking over mountain trails, carrying her young child, to take part in festivals while avoiding Greek border controls. For almost two decades, Adrianna did not sing at all, but has, in recent years, begun performing again for the diaspora community in Greece.
The differing timbres of their voices create thrilling harmonies as each in turn provides a second 'cutter' voice to the other's lead 'taker'. On other songs, the second voice is provided by Robert Tralo, another wonderful Përmet singer, who appeared with Adrianna in a legendary performance at the 1983 National Folklore Festival in Gjirokastër. Taking advantage of the new freedoms after the end of communism, Robert turned his back on a music career to follow his calling to become an Orthodox priest. He now looks after a number of village churches in the region, while allowing himself the occasional performance with a saze ensemble – but only when outside the boundaries of his parish.
The music of Southern Albania is iso-polyphonic, which means that it combines at least two melodic vocal lines, a lead (marrës – the 'taker') and a second (prerës – the 'cutter') with a multi-voiced drone or iso. When manufactured 'tempered' instruments arrived in the region in the late 19th century, singing, which had previously been performed a cappella, began being accompanied. This was the moment when saze ensembles were born; clarinets and violins took on the roles of the lead and second voices while lutes carried the iso. The sazes took Southern towns and cities by storm, performing at weddings, funerals and celebrations of all kinds, and still do to this day. As Vasil S. Tole, Albania's leading expert on iso-polyphony – and an inspiring advisor to this project – puts it: "Saze remains to this day the musical language of the cities of Southern Albania, where East and West embraced when European instruments collided with the magic of a cappella iso-polyphony, and where life and death still coexist in a sound that is truly unique."
Saz'iso's instrumentalists are from the other great city of Saze: Korçë. Violinist Aurel Qirjo graduated as a conductor from the High Institute of Arts in Tirana and, despite having lived abroad for many years, he remains one of the most distinguished violinists of Southern Albania, where he returns frequently to perform. Aurel now lives in London, recording and performing as a member of the Greek group Kourelou as well as playing in Turkish and Albanian ensembles. Clarinettist Telando Feto has remained in Korçë, where he teaches music in a school. He is famous for the tone and musicality of his playing, which is in high demand by Albanian popular artists. Llautë (lute) master and instrument maker Agron Murat and dajre (frame drum) artist Agron Nasi are veteran performers, who were part of Korçë's legendary Lulushi saze and have toured abroad widely with Albanian groups. Pëllumb Meta is a Tirana-based multi-instrumentalist and member of the Tirana Ensemble; a virtuoso on all manner of flutes and pipes with an extraordinarily wide repertoire of songs and tunes from all Albanian regions.
The songs on this album tell of joy and sorrow, love and loss, heroism and tragedy. "Tana" is an ancient song about a shepherd whose flock is stolen by bandits that grant his wish to play his flute for the last time before they kill him. The plaintive melody conveys his terrible fate to his beloved in the valley below. A line from the beautiful "Penxherenë e zotrisë sate" gives the album its title; a boy yearns for the girl next door, pleading, "You keep going in and out of your gate. O poor me, outside! At least wave your handkerchief at me." Other songs are about partisans struggling against foreign invaders and men forced to depart in search of work, leaving behind grieving wives and families, a recurring theme in Albanian music to the present day.The instrumental dances have deep roots in the region's history. "Valle e Osman Takës" originated with a captured rebel leader dancing his way to freedom and is now a spectacular male dance that constitutes a test that only the most skilled attempt. The delicate "Valle Postenançe", on the other hand, is a widely popular women's dance.
Of all the region's instrumental forms none has the resonance and emotive power of kaba. According to legend, the form originated when a dying wife told her husband not to cry, but to let his clarinet weep over her coffin instead. The album includes both, a clarinet and a violin kaba as well as a rare, freely improvised avaz. The melancholic improvisational lines of the clarinet or violin give it a mood often referred to as the 'Albanian blues'. Kaba's "melodies, ornamented with swoops, glides and growls of an almost vocal quality, sound both fresh and ancient at the same time", observes author and musician Kim Burton, "and exemplify the combination of passion with restraint that is the hallmark of Albanian culture." "This recording is a landmark in the history of Saze music. These performers are following in the footsteps of the great masters that have preceded them, while the careful and thorough production and wonderful sound quality allow us to experience recorded Saze as never before." – Vasil S. Tole
"We set out to record these virtuoso singers and musicians like a Blue Note jazz session or a Deutsche Grammophon string quartet. Saze is, after all, a classical form, its essential elements unaltered over the decades. With its ancient roots, the intensity of this world-class music has the power to entrance any listener."
– Joe Boyd
***
"At Least Wave Your Handkerchief At Me" was recorded in the last three days of October 2016 at the Marubi Film Academy in Tirana. Joe Boyd's long-time colleague and friend, the Grammy-winning engineer Jerry Boys, converted the school's screening room into a warm, bright studio. Everything was done live, with no overdubs.
"Recording Saz'iso was a wonderful experience, especially as the musicians were so obviously thrilled to be part of the project. They are all brilliant performers and we rarely needed more than two takes to get a master." – Jerry Boys
Saz'iso will tour the UK November 1-11 2017 through Making Tracks in collaboration with the Barbican for a London concert at LSO St Luke's on November 4.
***
Saz'iso are:
Donika Pecallari, vocal
Adrianna Thanou, vocal
Robert Tralo, vocal
Aurel Qirjo, violin & vocal
Telando Feto, clarinet
Agron Murat, llautë/lute
Agron Nasi, dajre/frame drum
Pëllumb Meta, fyell/flute & vocal
Glitterbeat