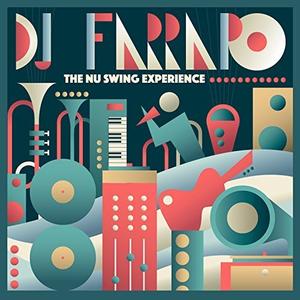 "The Nu Swing Experience" is the new album by Giorgio Cencetti, known to the public as DJ Farrapo. After the success of "Alien Na Favela" which was born from his passion for Brazilian music, the Italian dj / producer turned a new leaf, focusing on an exciting new experience as he rereads swing through a careful selection of original songs, covers and remixes. His interpretations are personal and original, rising above the usual "house cliché" of Electroswing. Thanks to his happy collaboration with Cico, a popular and respected Italo-Congolese hip-hop and reggae singer/MC, Farrapo has mixed swing with different musical styles, to create the hybrid sound that characterizes this album. The opening song "Swingin 'Junky" is certainly representative of Farrapo's light and sunny style, despite a latent vein of melancholy and the impetuousness of the electronic bass.
Next comes "69 times & then one more" composed with Cico and the clarinetist / saxophonist Guglielmo Pagnozzi, which was included in the soundtrack for the American television series "Shameless".
In "Good Life To You" Cico's voice is wrapped in a noir atmosphere together with the virtuosity of trumpeters Eusebio Martinelli and Riccardo Pittau.
Brazilian music is still a source of great inspiration and reference for Farrapo as can be heard in the remix of the classic chorinho "Tico Tico", played by the vocal trio Puppini Sister, or in the cover of "Marcianito" in manouche version.
Manouche music is also a source of inspiration in "It's Gettin Late", a song composed by Canadian violinist Michael Fraser, or in the cover of "Tchavolo Swing", a classic of the gypsy jazz repertoire, and finally in "I Want You Babe".
Classic swing mixes with hip hop in "The Dreams Becomes Dirty" and then comes the final part of the album, dedicated to drum'n'bass sound with the remix of "Hipbrass" (a song by the German Frohlocker) , the cover of the standard "St. Louis Blues", and finally "Swingy Mama": now a classic in every electroswing party.
ChinChin Records