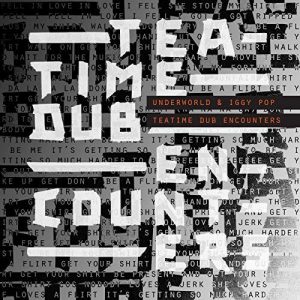 Last month, punk rock godfather Iggy Pop and electronic music icons Underworld dropped a surprise collaborative track called "Bells & Circles". At the time, the unlikely bedfellows said the track was recorded in London "during an afternoon tea encounter."
Pop and Underworld have announced a four-track collaborative EP called Teatime Dub Encounters. We have Danny Boyle's Trainspotting sequel to thank for the project, as it stems from a meeting between Pop and Underworld's Rick Smith to discuss working on collaborative music for the film. Pop's "Lust for Life" and Underworld's "Born Slippy (Nuxx)" famously bookend the soundtrack of the original film, and Smith was eager to record together for the sequel's soundtrack. So, Smith constructed a full studio in a London hotel.
"When you are confronted with somebody who has a whole bloody studio there in the hotel room, a Skyped director who has won the Oscar recently and a fucking microphone in front of you and 30 finished pieces of very polished music, you don't want to be the wimp that goes 'uh uhhh', so my mind was racing," remarks Pop in a statement.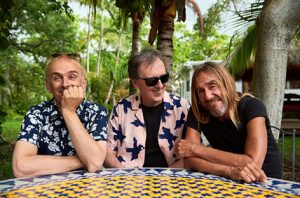 Ultimately, nothing they recorded together ended up on the T2 Trainspotting soundtrack. Instead, the material will be released as a four-song EP on July 27th. In addition to "Bells & Circles", the EP includes "I See Big", which was inspired by a conversation Pop had with Boyle about the subtext of both Trainspotting films.
Teatime Dub Encounters Tracklist:
01. Bells & Circles
02. Trapped
03. I'll See Big
04. Get Your Shirt
NMR (Photo: Danny Seaton)